PRE-SALE & CODE INFO
Q - When will presales for U2.com subscribers take place for the band's November Irish shows?
A - Presales for the Dublin and Belfast shows take place from Thursday September 10th (10am) until Fri Sep 11th (12noon) for subscribers in Ireland (Republic of and NI); and on Friday Sep 11 (12noon until 5pm) for other qualifying U2.com subscribers, while ticket supplies last. All times are local venue time.
Q - Who qualifies to enter 'presales' for the Belfast and Dublin Shows?
A - 1) Any U2.com subscriber living in the Republic of Ireland or Northern Ireland who joined prior to the announcement of these Irish shows (11:00pm 8 Sept local time).
2) U2.com subscribers who joined prior to the announcement of these Irish shows (11:00pm 8 Sept IST) AND have not already used their presale code to purchase tickets in presales for other IE Tour shows. (As our Subscribe page explains, anyone who subscribed after the announcement of the Irish shows does not qualify for presale access to the Belfast/Dublin shows.)
Q - I have already used my unique presale access code to buy tickets for U2ieTour shows earlier in 2015, can I use it again in presales for the Belfast/Dublin shows ?
A - If you've already bought two tickets in earlier pre-sales, your presale ticketing code is no longer valid. If you only bought one ticket in an earlier presale, your code will be valid to buy one more ticket in the Belfast/ Dublin presale.
Q – I became a new subscriber after the announcement of the Irish dates, can I take part in the Belfast/Dublin presale?
A – No. With limited capacity for the Irish dates, presales are only open to people who had subscribed BEFORE the announcement at 11pm on September 8th. Please enter the public onsale for tickets beginning on Monday Sep 14th.
Q - Floor tickets for the shows in Ireland are being sold with the Paperless Ticket system - what is this?
A - A Paperless Ticket event is when the Credit or Debit Card that was used at the time of booking to purchase tickets is used as the customer's ticket/entry into the event. You will not receive physical paper tickets for Paperless Ticket events. Instead of going to the venue's Box Office, you simply go direct to the door, present a valid photo ID (such as a driver's license or passport) and swipe the credit card that was used to purchase entry to the event. Your entire party must enter the venue at the same time with the valid credit card and the tickets are non-transferable. Virtual credit card users: please do not use virtual credit card account numbers for Paperless Ticket purchases as you must present the physical credit card at the time of entry.
Q – Are there accessible/wheelchair tickets available?
A – For accessible tickets, please contact the below directly:
3 Arena, Dublin: (ROI) 0818 903 001 (NI &UK) 03333219996 (International) 00353 818 903 001 Select Option 2
SSE Arena, Belfast: Wheelchair Areas can be purchased on www.ticketmaster.ie
Persons with specific requirements EG Accessible seating should contact SSE Arena Box Office on 02890 739074
Q - What is an Internet pre-sale?
A - An Internet pre-sale is an advance window to access tickets prior to the general public sale of the tickets.
Q - How do I gain access to the U2.com Tour Ticket pre-sale?
A - To gain access to the U2.com Tour Ticket presale you will need your unique and personal Pre-sale Access code that has been allocated to you as an eligible current Subscriber of U2.com. You will be notified of how and when to access the pre-sale ticketing pages via the U2.com Tour page and by email. The pre-sale ticketing links FOR EACH CONCERT will also be available via the
Tour page
of U2.com once the pre-sale for that concert has started.
Q - On Previous Tours, Subscribers have been able to buy up to four tickets ?
A - When the band play outdoors in stadiums, subscriber presale access has been up to four tickets. When the band tour indoors, in arenas, ticket capacity is reduced and subscribers qualify for up to two tickets. In 2015 the band are playing indoor arenas.
Q - Does a Subscription to U2.com guarantee I can purchase tickets?
A - No. U2.com pre-sales provide early access but cannot guarantee tickets. Tickets are sold on a first come, first served basis.
Q - If I don't use my pre-sale ticketing access code in presales for shows announced on December 3rd, will the code still be valid for use if/when other dates are announced - such as the Dublin shows, details of which are still to be revealed ?
A - Yes. Your un-used pre-sale ticketing access code will be valid to use if further shows are announced.
Q - New pre-sales have been announced but I have used my pre-sale code to buy tickets already. If I renew my U2.com subscription early, will I get a new pre-sale code to use against these new shows.
A - No, subscribers get one code to use with their annual subscription in an annual ticket selling cycle. For example, if you've already purchased tickets in a pre-sale for 2015 Tour dates, you will not be able to use a presale code to buy tickets if further dates were to be announced.
Q - I bought my 2 tickets during the pre-sale, can I buy more in the public sale?
A - Yes, rules for pre-sales do not affect public / general sales.
U2 iNNOCENCE + eXPERIENCE TOUR FAQS.
Q - What can you tell me about the stage set-up for the iNNOCENCE + eXPERIENCE Tour?
A - U2 have always been about creating an atmosphere of connection and intimacy with their audience.The U2ie tour will feature stages at each end of the venue connected by an extended third stage spanning the length of the arena. State of the art video and a radical new approach to surround sound are designed to ensure that everyone in the audience sees, feels and hears the show with maximum impact from every seat in the house.
Q - Will there be a support act on the iNNOCENCE + eXPERIENCE Tour?
A - No, there will be no opening act on this tour. The show starts at 7:30pm. Don't be late.
Q - Where will the GA line be? What time can fans start to get in line?
A - The GA line will have a dedicated entry wherever possible. Where Paperless ticketing is used, the process will be for the credit card holder of the ticket purchase to bring all patrons within his purchase and enter through a scanning gate. Each person will receive a ticket receipt and proceed directly to the wrist banding tables where they will receive a wristband that will allow them to either the North side or the South Side of the floor. There will be clear signage depicting each side. The quantity of wristbands will match the capacity of each side and will be used for even loading of the floor as well as patron safety. There will be customer service representative present to help with any questions. The is no reentry allowed to the venue once the credit cards are scanned at the entry.
Where paperless ticketing is not used, the printed tickets will allow for entry in a dedicated GA entrance past the Wrist banding tables and directly to the entries to the floor.
Q - Where is the Red Zone?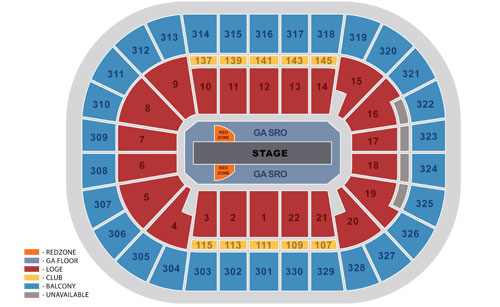 Location of Red Zone Subject To Change.
Q - Although the U2ie stage stretches right across the floor of the venue, where do the band perform from?
A - The band play across the entire length of the stage, both as a foursome and individually. They play as a unit at both ends of the stage and, at some points, all along it. There's one other place from which they perform... which you won't believe until you see it. It's unusual for an arena audience to get such close proximity to performers.
Q - Has the U2ie stage moved position since the original on sales?
A - No. The stage was always designed to play to a 360 configuration. Initial maps portrayed the stage area as a generic rectangle running end to end of the arena. The generic shape did not designate a 'mainstage' at a particular end, and as intended, the show plays to all sides, and all areas of the stage. The one area that moved, in relation to the original drawing, is the RED ZONE, adjusted to provide the dual option of proximity to the stage and a clear view of the center screen... while respecting venue fire access codes.
Q - Can everyone see the screen?
A - The large center screen plays mainly to the full sides (high and low), and the corners of the arena. Supplementary screens provide video support to seats directly in line with the ends of the large center screen.
Q - As there are North and South sections of GA, can we move around the floor between them? (I have friends that are "South" but my tickets are "North.")
A - For safety and logistics reasons, the two sides of the floor will be assigned a fixed number of wristbands to match the legally allowed capacity on each side. (Wristbands will be put on at banding tables in the entry area.) Once the floor area is at capacity, people will be permitted to flow between the two sides.
TICKET PURCHASING
Q - How much do the U2.com presale tickets cost?
A - Any tickets purchased during the presale will cost the same as the tickets available during the public sale and any charges made by the local ticket vendors will also be the same. The U2.com presale privilege gives you advanced access to tickets, it does not provide you a discount on ticket prices or charges.
Q - How do I enter my personal pre-sale code to take part in the presale?
A - When the presale for your chosen show opens, you will need to visit the presale ticketing page for the ticket vendor selling presale tickets for that show. On the presale ticketing page of the ticket vendor, there will be a box for you to enter your code. The links for the ticketing vendor presale ticketing pages will be notified to you via the registered email address that you provided to U2.com. The links will also be available on the tour pages of U2.com
Q - Once I have ordered will I receive an order confirmation?
A - Most ticket companies provide an online order reference number as confirmation of your purchase.
Q - If I have any questions concerning my purchase can I contact someone?
A - You must always contact the customer services of the ticket vendor from whom you made your purchase.
Q - Can I get replacement tickets if I lose my tickets?
A - Policy concerning lost tickets can vary from venue to venue so contact the customer service department of the ticket company you purchased from to discuss your options.
Q - Once I have purchased, when will I receive my tickets?
A - Tickets are sent out well in advance of the show. If you haven't received your tickets 7 days prior to your show please call the customer service department of the ticket vendor from whom you purchased your tickets. Any anticipated delays in ticket delivery will be posted on the event purchase page.
Q - If I don't use my pre-sale ticketing access code in presales for shows announced on December 3rd, will the code still be valid for use if/when other 2015 dates are announced - such as the Dublin shows, details of which are still to be revealed ?
A - Yes. Your un-used pre-sale ticketing access code will be valid to use in further shows announced for 2015.
Q - How can I purchase tickets for disabled access?
A - In North America you can click the accessible seating icon on the 'event detail' page, and fill out a form, which sends an email request to Ticketmaster's e-care for handling. The form contains a field to accept your access code. If you are booking tickets for European shows and you require special needs seating please follow the instructions on the relevant page of the website that is selling the tickets for the show of your choice.
UPDATE: For the venues featuring in the additional dates this is the information: In Stockholm seats for Special Access/Wheelchairs are only sold through the callcenter +46 77 131 00 00; in Berlin please contact Bettina Erdmann/Semmel Concerts (Tel.: +49.30.88708922 Email: erdmann.bettina@semmel.de ); in Paris contact Bercy Arena by calling + 33 892 340 490 and in Amsterdam special access tickets are available on the site when you buy tickets. In North America you can locate special access seating at all of the venues during the pre-sales.
CUSTOMER SUPPORT / HELP FOR TICKETING SITES:
Stockholm
Paris
Berlin
Amsterdam
North America shows / Ticketmaster
Montreal
GENERAL U2.COM MEMBERSHIP QUESTIONS
Q - What are the benefits I receive when I become a U2.com subscriber?
A - The benefits of a U2.com subscription are explained in detail on the Subscribe page. As well as the special content and offers on the subscriber site, paid-up subscribers receive a limited edition gift (this year a classic live set from 1980 on double vinyl) can take 25% off their first purchase in our Store and when the band head out on tour, gain access to ticket pre-sales.
Q - How much does it cost to subscribe to U2.com?
A - The Subscription price is $50 per year but existing subscribers pay only $40.00 when they renew their current subscription.
Q - I don't have a credit card, can I purchase a U2.com subscription membership with a check or money order?
A - At this time, we only accept credit cards for payment.
Q - Where do I renew my subscription on the web site?
A - To resubscribe, simply go to: renew.U2.com, login, and follow the renewal instructions.
Q - If my subscription has not yet expired, and I renew my subscription now, what is the expiration date of my new subscription?
A - You can renew your subscription at any time and it will continue for one year after the end of your current subscription term. Please note, your discounted resubscription fee of $40 is valid until the end of your existing subscription term. If you let your subscription term expire you will keep your U2.com profile, but the paid benefits will not apply. To reactivate you will need to purchase a new subscription at $50.
Q - If I renew my U2.com subscription, will I receive a ticket access code for pre-sale tickets?
A -In a touring period, paid-up subscribers receive an opportunity to enter a special ticket presale.
Q - After I renew my subscription, can I still use the 25% discount coupon from my previous subscription?
A - Yes. If you have not used your discount coupon it will still be valid up to a year from the date when you first became a subscriber. Please note that you will not be able to use multiple discount coupons on a single order - they are only good for one transaction at a time.
Q - How do I order a U2.com subscription for a friend or relative so that they can also receive the Double Vinyl Live Set or the book 'North Side Stories' or a bundle including both of these gifts ?
A - Go here, add the gift membership to your Cart, and complete the checkout process.
After you have completed your order, we will send you an electronic gift certificate via e-mail. When you email this certificate to your friend or family member, they can use it to take out their annual subscription to U2.com. Your gift recipient will receive a one-year subscription - from you - and we'll send them a copy of the Double Vinyl Live Set (on release in Spring 2015) or the book 'North Side Stories' (immediately). They will also get access-all-areas to the U2.com Subscribers Site.
Q - Can I use my 25% coupon toward my membership fee or a friend's fan club membership?
A - No. Your membership discount offers are only good toward merchandise purchases made in the official U2.com store and are non-transferable.
Q – Who is eligible to download advance tracks from 'Another Time, Another Place'?
A – When you took out your annual subscription (new or renewed), if you selected the 'Annual Subscription Package: Another Time, Another Place' OR the 'Premium Subscription: Another Time, Another Place & Book', then you are eligible for the downloads. (If you selected 'Annual Subscription: North Side Story' you are not eligible for the downloads.)
MEMBERSHIP SIGN UP QUESTIONS
Q - How do I sign up to U2.com?
A - Click on the Sign up / Sign In link at the top of the page (or just click here for the Subscribe page). When you sign up with U2.com, you can choose free membership or paid membership. Paid membership entitles you to the full benefits of being a U2.com member such as 'U22' the double live album, a U2.com email address, members only discount offers, and access to U2.com community area, exclusive content and more.
U2.COM PROFILE
Q - How do I edit my profile?
A - When you are logged in with either a free or paid account, click on the ACCOUNT INFO button at the top of the page. You can update your profile information from there. Note - user names and display names are not changeable, but please make sure to update your email address, mailing address, etc.
Q - How do I change or request my password?
A - Go here to request a new password.
CONTACT US
If you have questions please call our customer support team at:
+1-855 867-5297 (inside the US)
+001-949-333-4825 (outside the US).
Or, you can email us by using the Contact Us form on the right side of this page.