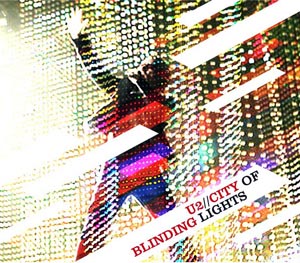 U2's new single, 'City of Blinding Lights', is released in the UK today. (At HMV all three formats are on offer for £6. Available
here
)
The new single is available on 2 CDs and a DVD, and b-sides include the Killahurtz Fly Mix of 'All Because of You', as well as live versions of 'The Fly' and 'Even Better Than The Real Thing' recorded at the 'Stop Sellafield' concert in Manchester, June 1992.
The DVD comes with an exclusive video of City Of Blinding Lights recorded live at Brooklyn Bridge in November last year.
Tracklisting for the three formats are listed below - and don't forget that record store HMV have another special deal with all three together on sale for £6.
CD1
1. City Of Blinding Lights (Radio Edit)
2. All Because Of You (Killahurtz Fly Mix)
CD2
1. City Of Blinding Lights (Radio Edit)
2. The Fly (Live at 'Stop Sellafield' Concert)
3. Even Better Than The Real Thing (Live at 'Stop Sellafield' Concert)
DVD
1. City Of Blinding Lights (Live at Brooklyn Bridge) - video
2. Sometimes You Can't Make It On Your Own - video
3. City Of Blinding Lights - audio