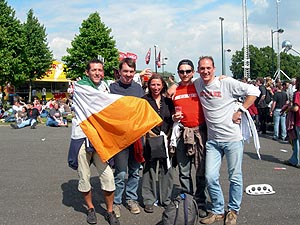 A blisteringly hot afternoon in Brussels with fans arriving and the band soundchecking.

Just a few hours before the European tour opens and thousands of fans are catching the rays as they line up for pole position at the King Baudouin Stadium.

'I don't care what songs they play,' said Gunter, from Brussels, but wearing an Irish tricolour, 'I just want to get right down the front and into the action.'

'They are the best live band in the world,' added Michelle from Ghent, lazing in the grass until the gates open. 'I've seen everyone from The Rolling Stones to Franz Ferdinand to Moby but no-one plays live like this band.'

Maybe it's because we are in Europe but lots of fans are hoping for some hits from Achtung Baby.

'That's when I got into them,' said Jores from Antwerp. 'I don't like any other rock bands, I only like dance and electronica but U2...I just can't get enough of them.'

U2.Com Subscribers seemed to be in every other group and lots of them are meeting up for the first time. 'It's a great way of making contact with other fans,' added Gunter. 'Lots of us have made plans through U2.Com to meet up at different European shows.'

Meanwhile, inside the stadium, the band were out on stage in the early afternoon for some final soundchecking. Seems like last night must have gone pretty well ­ - after a quick reprise of Love and Peace and Zoo Station they were gone.

'It was really hot on that stage,' said Gavin Friday, who's been advising the band on the production throughout the tour. 'It was scorching but it's a great vibe and no-one used sunscreen.'

Check back with U2.Com for more news and photos later on.