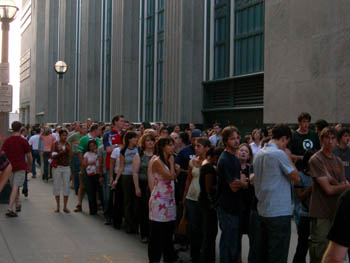 Just ahead of tonight's opening show, a huge line of fans was snaking right the way around the Air Canada Centre.
Apart from the general air of barely disguised excitement, a deeply
unscientific survey by the U2.Com team suggested that most of the discussion was about two subjects. Firstly, GA ticket holders were wondering whether their
ticket
would get lucky in the computer scanning machine and win them entry into the ellipse area.
Secondly, with Edge revealing that the band are going to put some more new material into the set for the Fall shows, what are the likely candidates.
'It's got to be Crumbs From Under Your Table', said Rainie, 23, who'd brought his girlfriend Steph, 22, for her first U2 show. 'But 'Ultraviolet (Light My Way) would also be way cool!'
'I'm looking for that set list they played in Barcelona,' said Bart, who had driven 22 hours across Canada for the show. 'I saw it on U2.Com and thought that would be my favourite, Party Girl and Miss Sarajevo included!'
Nicky and Linda, both late twenties and both mad keen concert-goers, were looking for Stay (Far Away So Close). 'I saw them on the Elevation Tour,' said Nicky. 'The energy is just so good when they play. We've seen Coldplay, Duran Duran, Keane, and David Bowie, all great shows, but nothing on this band!'
Wild Horses was the big hope of Justin Farrell, who has seen the band four times, or failing that Wild Honey. 'I love that song, wouldn't it be great if they played that tonight?'
Other fans were nominating Hold Me Thrill Me, Discotheque, Staring At The Sun, Desire, and Sweetest Thing. But for most people, the discussion was just a way of passing time in line - nobody was really that bothered about what the band play. As one fan near the head of the line put it to U2.Com, 'They could play anything they like and we'd be happy.'