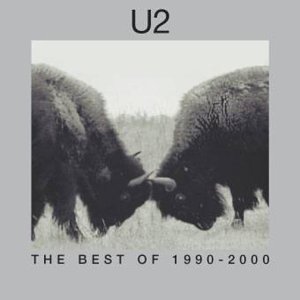 The second volume of U2's Best of Collection, covering the years 1990-2000, is now released.
A limited edition
'Best of the B-sides'
is also available with the new album for the first few days of release.
Covering the years from 1990 to 2000, the sixteen tracks on
'U2: Best Of 1990 - 2000'
feature highlights from
Achtung Baby, Zooropa, Passengers: Original Soundtracks 1, Pop
and
All That You Can't Leave Behind
.
Two brand new tracks are included, the latest single
Electrical Storm
, and
The Hands That Built America
from the soundtrack to the forthcoming Martin Scorsese movie The Gangs Of New York.
In addition, four songs,
Discothèque, Gone, Numb
and
Staring At The Sun
have been substantially reworked by producer Mike Hedges.
A strictly limited edition run of
U2: The Best Of 1990 - 2000
features a second cd collection,
The Best Of The B-sides
, as well as a bonus DVD with exclusive content including the
History Mix of U2 in the '90s
. This special value set is available for one week only, after which the A-sides will be sold as a single cd.
The full album tracklisting is:
Even Better Than The Real Thing
Mysterious Ways
Beautiful Day
Electrical Storm (William Orbit Mix) (new song)
One
Miss Sarajevo
Stay (Faraway, So Close!)
Stuck In A Moment You Can't Get Out Of
Gone (new mix)
Until The End Of The World
The Hands That Built America (new song)
Discothèque (new mix)
Hold Me, Thrill Me, Kiss Me, Kill Me
Staring At The Sun (new mix)
Numb (new mix)
The First Time
The 1990s was a period of reinvention and experimentation for U2, embracing rapidly developing technology and incorporating it into their distinctive sound. Many of the tracks on the B-sides collection are remixes of U2 tracks by leading DJs and producers, including Paul Oakenfold and Alan Moulder.
The B-sides tracklisting is as follows:
Lady With The Spinning Head (Extended Dance Mix)
Dirty Day (Junk Day Mix)
Summer Rain
Electrical Storm
North & South Of The River
Your Blue Room
Happiness Is A Warm Gun (The Gun Mix)
Salome (Zooromancer Mix)
Even Better Than The Real Thing (Perfecto Mix)
Numb (Give Me Some More Dignity Mix)
Mysterious Ways (Solar Plexus Club Mix)
If God Will Send His Angels - (Big Yam Mix)
Lemon (Jeep Mix)
Discothèque (Hexidecimal Mix)