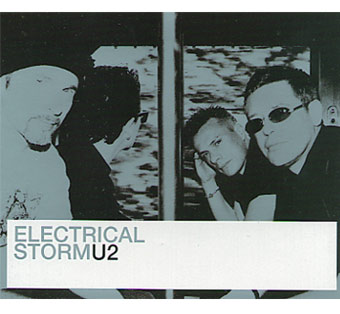 Electrical Storm is now officially released for broadcast worldwide and already racing up airplay charts.
Even before the official release of the promotional single - pictured left - last week, stations from Mexico City to Melbourne were playing the unofficial version, after its surprise premiere on BBC Radio One
(see our earlier story)
.
'There's been fantastic reaction to Electrical Storm,' said a spokesman at Universal Records. 'Radio programmers seem to love it as much as the fan-sites.'
Bono has also been talking about the single, which is not released in the shops until October 21st, to Neil McCormick in the UK's Daily Telegraph newspaper.
'It's about a couple in a room, feeling a storm brewing in the sky outside and equating that to the pressure they feel in their relationship. I think it captures a sense of unease I feel around the world, especially in America, an air of nervous anticipation. It's not an overtly political song, but I don't think we could have written it before what happened in New York.'
Electrical Storm, due for release on October 21st, will be available on two CDs and a DVD format. The tracklistings are:
* CD1 - Electrical Storm (William Orbit Mix) plus two remixes of New York, Nice Mix and Nasty Mix both by KLF's Jimmy Cauty.
* CD2 - Electrical Storm and a live medley of Bad, 40 and Where The Streets Have No Name recorded in Boston on the Elevation tour.
* DVD - Electrical Storm (William Orbit Mix) and video, exclusive sound bites from the band and a collection of photographs by Anton Corbijn.