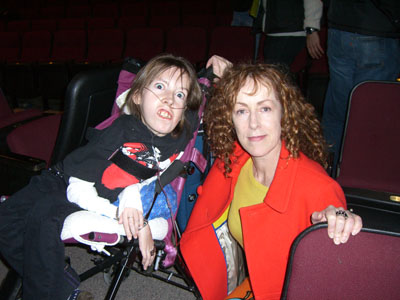 How Elsha Stockseth turned up without a ticket at the 'U23D'premiere and got to meet the band on the red carpet.
'On the day of the U23D' film premiere at the Sundance Film Festival my parents and I arrived in Park City and my dad ended up about the 28th person in line. Mom and I got talking to some of the people waiting for the show before 'U23D' and we told them about how I've met U2 and been backstage. We were free to wander until about 9:15 pm when we had to be back in line. My mom and I decided to go into the theater and we noticed a guy who looked like Joe O' Herlihy, U2's sound guy, but we didn't dare ask him. We went back out and told my dad to go see if it was him - my dad knew what he looked like because he met him in Denver 2005 - and sure enough it was Joe. We all talked with him for a few minutes and I showed him my U2 rings like Edge's. My mom told him that I really wanted to meet the band again and he said that they would be arriving at about 9:15 pm.
We went back outside to wait and then an SUV pulled up and Edge's bodyguard got out. Then a little ways down the line another SUV pulled up and Bono got out. Then everyone started pushing and calling him. Luckily a security person grabbed on to the fence near me to keep it from tipping over. I couldn't see Bono until he was right next to me. My mom said, "Bono, do you remember Elsha?" "Yes, indeed," he exclaimed. He said "How are you, it's good to see you!" Then he said, "It's cold, do you want to come out of the cold?" I said "Sure!" He said, "Here come in out of the cold." My mom asked if we could get my dad and he said "Yeah". Then my mom mentioned that we didn't have tickets and he said, "Come on and we'll figure it out."
I couldn't believe it! I had just been personally invited by Bono to watch 'U23D'! While we were talking I glanced up and there was Edge, who greeted us with a smile and a minute later Dennis Sheehan, the band's tour manager, came over and we were led inside. The movie was introduced and then the whole band came in, they all sat on the row behind us. When the boys went onstage they walked right by us and smiled at me as they went by. They looked so awesome onstage in their 3D glasses!
The movie was really great although the glasses kept falling off my face because they were too big. It was just like being at a U2 concert because a lot of people were singing and holding up their cell phones. After the Q&A we were waiting for the crowd to clear out and Catherine Owens, the director, came up to see if I liked the show and I got a picture with her. She is a real sweet lady. I had a great day and it was way worth waiting in the cold and not eating all day. I really appreciate all of U2's crew, they are all super nice people. I also appreciate all the people who tried to help me get tickets and Michelle for getting it all on video. Most of all I appreciate Bono and the rest of U2 because they have made so many of my wildest dreams come true - they really are The Best Band in the World! Time to go away and dream it all up again!
Elsha Stockseth
The Biggest, Little U2 Fan in the World