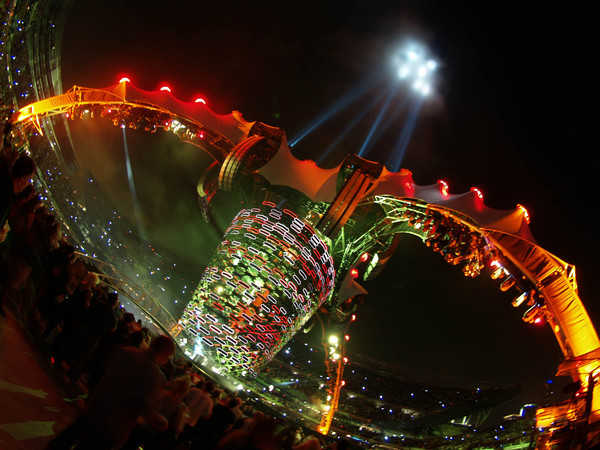 Your Blue Room, from 1995's Passengers album, made its debut tonight - first time the band have ever played it live. 'We've got new songs, we've got old songs, we've got songs we've never played before' was the promise and true to their word the band mixed it all up for the second night at Soldier Field, Chicago.

Here's a few highlights and a rather fine clip of Vertigo... and then it's over to you for yours.

Bono singing 'Chicago' in the introduction to Magnificent, with the audience, unsurprisingly, in seventh heaven. 'One for the money, two for the show, where are we in the world... Union Street.'

'What do you think of our space junk? It's the latest line of U2 accessories, we thought it would bring us to interesting places... closer to you.'

'Ten, nine, eight, seven, six, five, four... lift off.' For Your Blue Room, widely agreed to be among the most beautiful tracks the band have ever written, released on the 1995 album Original Soundtracks when the band recorded as Passengers with Brian Eno. Footage from the astronauts and the space station on the screens. 'It's time to go again/ To your blue room/Got some questions to ask of you/In your blue room...'
This joint was jumping for Elevation, while Until The End of the World and Stay, another couple of songs which have been played sparingly to date, also had 65,000 people lost in the music. 'Green light, Seven Eleven/ You stop in for a pack of cigarettes/ You don't smoke, don't even want to/ Hey now, check your change....'

And if the suit of lights for Ultraviolet is making a name for itself, welcome to the steering wheel microphone swinging low from high up in space station - now with added LED's. What will they think of next ?