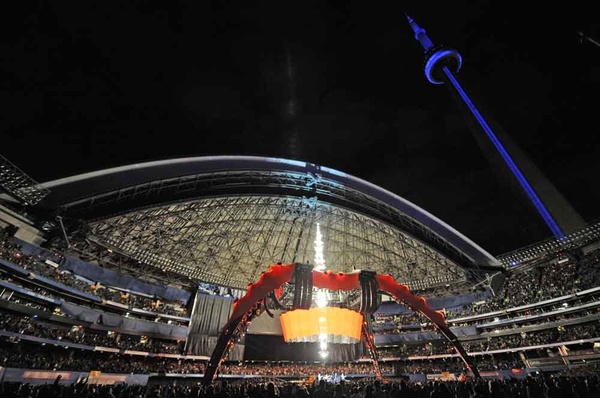 The band played in Toronto tonight, the first of 2 shows, and set beneath the Toronto Tower, the stage looked more spaceship like than ever. Show was out of this world too.
'We've got some old songs, some new songs, We got songs we can barely play... We got a space ship'.
What did we make a note of ? The roof of the Rogers Stadium (home to the Toronto Blue Jays) was off, which is a bit of a rarity - it came off for Bruce Springsteen too - and that made for some great acoustics tonight. The end of Beautiful Day found Bono singing 'Alison' by the one and only Elvis Costello, who was here watching the show. The band paid tribute to their hosts ('Our first night on the majestic half continent that you call a country - Canada.')... which went down relatively well. And we learned that 'the effortlessly stylish Adam Clayton' is ' the only man in U2 who uses face cream.'
You had to be there really, and 65,000 of you were, so
send us your reviews - and add your photos.
Breathe
No Line on the Horizon
Get on Your Boots
Magnificent
Beautiful Day
Still Haven't Found
Elevation
Your Blue Room
Unknown Caller
Until the End of the World
Stay
Unforgettable Fire
City of Blinding Lights
Vertigo
I'll Go Crazy If I don't Go Crazy Tonight Remix
Sunday Bloody Sunday
MLK
Walk On
One
Streets
Ultraviolet
With or Without You
Moment of Surrender