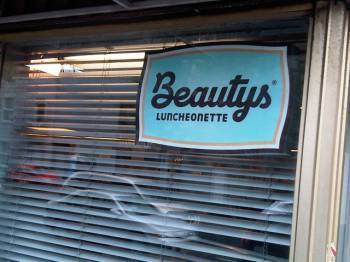 Montreal. Day off.

We were all a tad groggy on staggering out of bed this "morning". The Hotel Fabulous here in Montreal is quite beautiful but is old-school with dark wood and heavy curtains so is very dark inside. This may also have contributed to the general late rising of team 360, as it's so cocoon-like.
I did eventually manage to crawl from the pit and, having missed breakfast by several hours, set off to find Beautys Luncheonette, a food establishment that I'd been recommended. Word is out in the foodie community that Montreal may now have eclipsed New York as home to the ultimate bagel. Sacrilege I know, but, I'm just saying that's what I'm hearing from those in the know. Heaven knows why there's such a large Jewish community here (Arthur's from here and even he doesn't know) but with it comes fine food, so count me in.
Beautys Luncheonette did not disappoint. The place has been there since the 40's and is clearly untouched. It was so perfectly what I needed at that moment that I was almost weepy with joy. The booths, the counter, the old boy on the stool with his gruff greeting, the peeling photos of yesteryear, all good and the bagels? Well, let's say that New York should perhaps be paying attention.
I tucked up for the rest of the day, amid the dark wood panelling of the hotel, to make a concerted assault on the ever-growing mountain of non-U2 tasks that I seem to be accumulating. It's terrible how real life impinges on our tour bubble from time to time. I did quite well with it though, eventually rewarding myself with a stroll out for a solo dinner and a very pleasant local sidewalk brasserie. I was recognised by my waiter, but I won't hold that against him. After a year's delay, U2's arrival in Montreal to play two shows is akin to the second coming, so we're getting pretty much blanket media coverage.