jump to another tour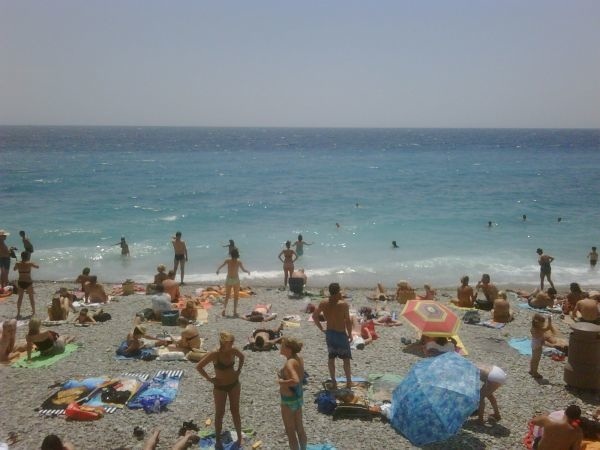 13 July 2009
'Lying on a Beach'
Nice. Day off.

On getting up for the second time I wandered out to the decent local cafe I discovered last week only to find it was closed for Bastille-eve. Gutted. Wandered a little further through the legions of swimwear clad tourists, trying to find a way at least slightly off the beaten track which is pretty tricky in this city. There's a very picturesque 'old town' area, which must have been delightful prior to the arrival of postcard shops and pizzerias. I did eventually find a corner cafe which threw a pretty decent omelette at me. As I ate it and read the paper, I noticed that the only other diner in the place was an elderly lady, rather elegantly dressed and made up and clearly no stranger to the scalpel. She was sitting at a table with a cold drink in front of her. I didn't pay much attention to her, so it was a while before I noticed that she was cradling a pigeon to her chest, very much in 'log lady' fashion. I think perhaps I must be off the beaten track at last.

Apres avoir mange, I spent the afternoon manacled to the laptop, getting on top of the backlog of chores which tend to pile up when you're in perpetual motion. There are some new video sequences underway for various parts of the show, I've a photographer coming to the Berlin show to take production shots, so needed to get that organised, the fog machines still aren't doing quite what I need them to do so have been trying to get that figured out... these are the sorts of random bits and pieces that fill my non-show days.

I did manage to escape in the evening with Tom, our video director, and some non-tour friends who are in town. We headed to Villefranche-sur-Mer which is a picturesque little town just a little way along the coast towards Monaco. For some reason Villefranche does it's whole Bastille firework celebration on the evening of the 13th rather than waiting for the 14th like the rest of the nation. I have friends with a house in Villefranche so they had booked us a table at a restaurant, outdoors on the little harbour front. All evening there is a procession of illuminated fishing boats which is just charming and then at about 10pm all the fireworks go off. It really was lovely, only slightly marred by the accompanying soundtrack of hardcore techno music, which we found a curious choice. Piaf or Trenet might have been a little obvious perhaps, but this was beyond lateral. One of our friends commented that last weekend was Nice Gay Pride, so perhaps they had got the Pride DJ to do a two-for-one deal whilst he was in town. We were fine with it really, but the small troupe of Ukrainian traditional musicians was looking a little crestfallen. By midnight the disco and fireworks were all done and the Ukrainians had seized their opportunity to serenade us until we were finally ushered off the premises by the proprietor, having well and truly closed the place down. Fun night.


Tuesday 14th July 2009. Nice. Load in day.

It's Bastille Day, which is the French equivalent of 4th July and Guy Fawkes night rolled into one. It marks the storming of the Paris Bastille in... 1789?... celebrated with the usual heady combination of pyrotechnics and copious drinking. I celebrated the liberation of the French peasantry via the act of doing my laundry. I found a launderette around the corner from the hotel which was next door to, joy of joys, a little Lebanese cafe, so I enjoyed some tabouleh and humus whilst my socks were going round and round. Also wandered to look at the beach, which has been so far off my radar that I'm barely aware of being on the coast. From the somewhat stunned perspective of being on tour, it's really quite hard to relate to the concept of people lying on a beach.

Went into the venue later, which was quite a surreal experience. Due, one assumes, to an administrative oversight, we appear to be playing this show in a children's playground near Nice-Cote D'Azur airport. The venue is essentially an open field with a very marked absence of stadium - the only bleachered seating is contained within a miniature grandstand, the view from which is almost totally obscured by the mixer tower. Still, there are some pleasantly comedic aspects to the situation. The entire QuadPod structure, including the video screen, is clearly visible from outside the venue, with a freeway flyover affording particularly excellent views. From the carpark across the street, the view of the beast through the palm trees is especially striking.

I didn't stay terribly long, as it was clear that my function for the evening was largely ornamental and besides there were fireworks to go and see. Hitching a ride back into town with a friend who'd come in for a look, we were rather dismayed to find ourselves sitting in hideous traffic as all the residents of the greater Nice area attempted to get to the Promenande des Anglais to watch the Bastille day firework display on the beach. We sat there for an eternity, occasionally catches glimpses of mortar bursts down side streets, before eventually giving up, getting out and walking back to the hotel just in time to miss the festivities entirely. Undeterred we retired to my hotel room balcony with a bottle of tepid rose and called it a night.


Related Topics