jump to another tour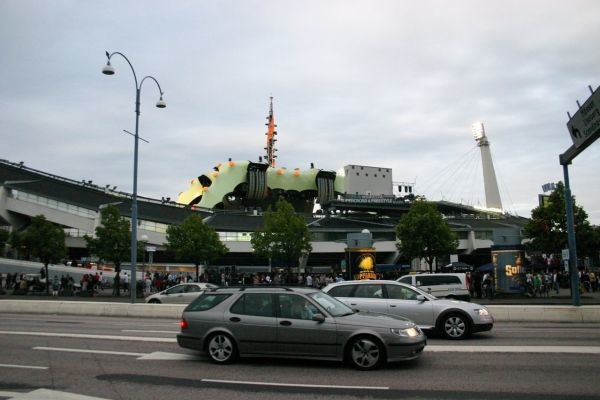 30 July 2009
Sweden on a Budget
London to Gothenburg. Load in day.
Spent the morning in London editing some new video pieces. I'm just playing with some ideas, which is a bit of a luxury and the fact that I have time to do it I'm taking as a very good sign. Headed for Heathrow at 4pm to get an evening flight to Gothenburg. Met Tom, our video director, on the plane and we flew through a stormy night towards Sweden. The weather was very unsettled which made for a rough journey but also made me wonder how things would be at the stadium.

We were picked up at the airport which was just as well as I only realised on arrival that Sweden isn't in the Euro so I have no workable currency. I wonder if it's going to be possible to spend three days here without needing any money? I shall look upon it as a challenge.

Got to the Ullevi Stadium at about 10pm by which time it was more or less dark. I'd hoped to do some programming and it looked promising. The stage and screen were up and ready to go, so we set about trying to get the stadium houselights turned off. This sounds like a simple operation but finding the right person to flip the switch can sometimes require a marathon effort in these large buildings. We had to wait for an hour or so whilst a barricade was being erected and a few other final chores were being carried out. Finally we had the place to ourselves. Once a tour is up and running these moments are extremely rare. Once you're out of rehearsals, the combination of the breakneck pace of the schedule, the fact of being outdoors in daylight and the number of other tasks being carried out, means you barely ever get any quiet, dark time with the stage. Tonight was the first time since Barcelona!

Five minutes into our programming session we were just settling in and fluorescent lights started to come on all over the building. Sigh. We get on the radio and discover that all these lights are on a motion sensor as part of the security system. They stay on for 15 minutes then gradually start to pop off one by one. 350 fluorescent tubes connected to a single motion sensor ... nobody move!


Related Topics