New York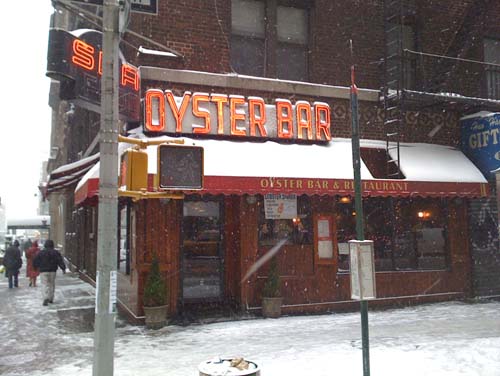 Sunday, 1st March 2009
New York. Woke up early with the jet lag, so strolled up Broadway to the Moonrock diner, picking up a New York Times en route. I texted my friend Penny, who lives in the apartment building above the diner, to see if she could join me whenever she woke up.
I did the American breakfast thing and had a go at the crossword, whilst watching the gentle snowfall outside. There was a large article by John Pareles about U2 in the Sunday Arts section that had a great line 'after 30 years they still want to be the Next Big Thing' which pretty much says it all.
Some hours later Penny appeared and we strolled up to the big Barnes & Noble near Lincoln Centre. By mid-afternoon I was beginning to fade so headed back to find my pillow. The evening saw the arrival of Tom, the tour's video director, who is here to help with all the promo work this week. Spent the evening inhaling sushi and planning world domination. Froze our arses off walking home through the increasingly heavy snow.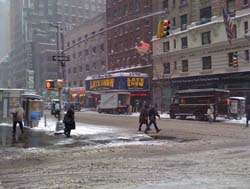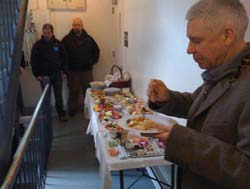 Monday, 2nd March 2009
New York. David Letterman Show (x 2)
Woke up to a world in white, as a full on blizzard has swept into New York City. There's about a foot of snow, which of course makes everything look spectacular. It was 'another day, another TV show', or actually another two TV shows in this case. We headed down to the Ed Sullivan Theater at Broadway & 53rd, long-time home of 'The Late Show with David Letterman'.
I'd been a little apprehensive, this being New York and all, wondering how open the house team would be to our input. As ever, I did the rounds and met everyone, whilst sussing out who might be the guy to help us. It turned out that everyone was most welcoming and Tim, the house lighting chief, was very amenable to what we had to say. We had two shows to do, as Letterman goes out every week night, but for some reason they tape the Friday show on Monday. First up was 'Breathe' which the band ran through three times. Generally I was encouraged, but the 'key light' (the main light for lighting the actual performers) needed work to give it the kind of look that we like in U2-land. We didn't quite get it right for the actual take, but it wasn't disastrous (and thinking back to Jonathan Ross, it was positively glorious.) However, Tim and his team took all our comments on board and really ran with it. Next up was 'Boots' with which I was more than happy. It was also a very good feeling to know that we're going to be in here all week and the house team have already grasped how we like to do things.
The show contained lots of snow jokes, given that the city was knee deep in it by this time. They shot a clip of the four members of U2 shovelling snow out on 53rd street, which was pretty funny
The day's brief moments of intense activity were, as ever, interspersed with long periods of standing in corridors. This building wasn't made to accommodate the quantity of people required to do a show like this, let alone when you add in all of our lot. The band has a small suite of dressing rooms on the sixth floor but it's all incredibly cramped and tiny, so the bulk of us end up back in the corridor for much of the time. They do a good line in stairwells at the Ed Sullivan Theater too, so we had plenty to choose from. Even the band's catering tables were spread out in an upstairs corridor!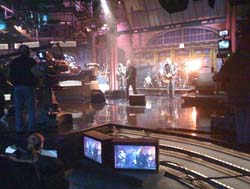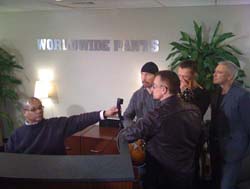 Tuesday, 3rd March 2009
New York. David Letterman Show. Had a meeting with my fledgling tour video team this morning, which was very productive. As usual, the video control system for the forthcoming tour is a work of technical wizardry, which all has to be custom made for us. 'Smasher', our video technical director, has joined us from Belgium for the week, so we are hopeful that we'll get the thing nailed by Friday.
This occupied the morning so we decided to run out for some lunch before heading to Letterman for 2pm. At the end of the block, we saw a crowd gathered at the corner of Broadway and 53rd. On closer inspection we saw the crowd was surrounding a small podium containing the whole of U2 and Mayor Bloomberg, plus about a hundred TV cameras. This, we discovered, was an unveiling ceremony for a new street sign, as this block of 53rd street was being renamed 'U2 Way'. There was a countdown and someone pulled a piece of string revealing the shiny new green sign.
Tom, Smasher and I saw that the crowd was about to disperse, so we ducked into an OK looking French place to have lunch. We'd not been in there ten minutes when we saw an absurd quantity of police and armed guards (black helmets, machine guns, the whole bit) flocking right outside the window. For a moment I thought we'd been transported to Baghdad, but it turned out to be the mayor entering this same restaurant, bringing with him the whole of U2. Honestly, you can't go anywhere in New York these days without falling over a member of U2.
Back at Letterman the band played through 'Magnificent' a couple of times for the camera rehearsal. It's really looking pretty interesting, given the parameters, so I feel we are in good hands here. After the show taping we stood around in corridors for a couple of hours, then decamped to a reception area to film U2 singing 'Guantanamera' as CBS telephone 'hold' music. This is starting to be quite fun.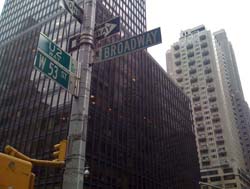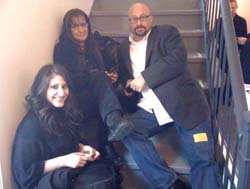 Wednesday, 4th March 2009
New York. David Letterman Show. Started the day by meeting with the lighting supply company for the tour, who have gradually been coming to terms with the magnitude of the project. They now also understand the fact that the staging set up is so radically different from the norm that none of us can make assumptions about how everything will come together - traditional methods simply will not apply.
One thing which has made me laugh is that the stage design has already earned its nickname. Above the performing area is a huge four-legged structure that effectively straddles the football field, from which all the paraphernalia of the show is suspended (this in lieu of a roof, being outdoors and all.) I've been working on this, off and on, for about two and a half years now, having shown the band the first drawings whilst we were still on the Vertigo tour. During the evolution of the structure it has, at various times, come to resemble several different things; a dockyard crane, a cactus, a giant crab, the Theme Building at Los Angeles airport. It went very Louise Bourgeois for a while, then a little space age. In its final incarnation though, its sleek curves and four talon-like legs have been dubbed "The Claw", remembering the fairground machine from Toy Story. This really amused me, spawning a fantasy of it descending and grabbing members of the audience, all of whom, presumably, would have three eyes.
Anyway, I digress. After the lighting meeting I went to see a projector demonstration - not something for the U2 tour but an interesting new gizmo which I wanted to go and have a look at for future reference. This was followed by a video meeting, and then another video meeting. The tour is still three months away, but a great many decisions now need to be made every single day, it seems.
Tune-de-jour at Letterman was 'I'll Go Crazy If I Don't Go Crazy Tonight', getting its first airing. Tim and his lighting team had really pushed the boat out, creating an interesting and (for a TV chat show) highly radical look for the song. This was a good demonstration of something that David Letterman said on air, during the show; 'Having U2 here is like a shot of electricity to the whole place - they just make everybody better.' Generous words indeed. When you're right in the thick of it, it's easy to forget just how hard this band strives to make everything the best it can be and that kind of energy tends to spread.
There's a huge amount to do just now, both for future promo appearances and for the real tour. I was hoping to sneak home at the weekend, but a U2 radio appearance in Boston next Wednesday just turned into a film shoot, so I'm going to have to stay on and get involved. Here we are. Trapped in Paradise.