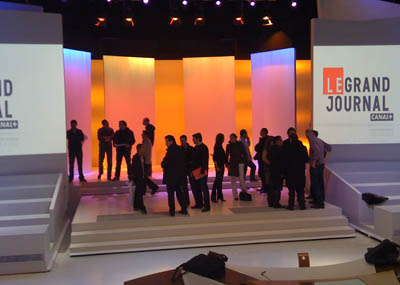 Wednesday, 18th February 2009
London. Brit Awards, Earls Court.
A little known aspect of big TV awards shows is the disproportionate amount of time spent hanging around in corridors. They actually build extra corridors especially for the event, to maximise the corridor-hanging opportunities. There's a simple reason - a regular gig comes with a huge quantity of rooms available for band dressing rooms, hospitality, offices, crew rooms, you name it. However, when 30 acts are sharing a venue with the massive production team required to stage one of these events, the available space shrinks to almost nothing. Consequently, the producers build an entire 'farm' of office-cubicle-like rooms backstage, which becomes a hive of temporary dressing rooms. U2 had two rooms; a lounge room and a smaller changing room. The rest of our touring party is welcome to use them too, but clearly there are long periods of time when we want to give the band some space. In the absence of anywhere else to go we end up… hanging in the corridor.
The corridor-view does provide an interesting perspective, though. The overall ambience of the multi-corridored dressing room area is that of a very well attended 'festival of doors'. There are doors everywhere, accompanied by oversized signage indicating who might be slumped on a rented couch behind the potted palms within. We were opposite Duffy's room, then further down the corridor were Girls Aloud, with Kings of Leon round the corner, Pet Shop Boys a little further afield, and so on. It's busy too, as people come and go to the stage, to the make-up room, or catering, or the spiffed up port-a-loos. Sitting on the floor, laptop on knees, gets to be like a real life version of flipping through Hello! magazine. Coldplay pottering about, the girls from All Saints coming to visit, Kylie charming as ever. When James Corden and Matt Horne went by, both wearing red mini-dresses and thigh-length black vinyl boots I began to wonder quite where I was.
U2 were on first which is always a bonus - a little like getting your homework done on Friday night so you have the rest of the weekend to play. It went well, looked good in the truck and Gavin Friday texted in to say he thought it came over well on the telly. We returned to the dressing room for a lower-case moment of celebration then relaxed into the rest of the evening. News came in of a five star album review from Rolling Stone ... we're only a week or so away from release.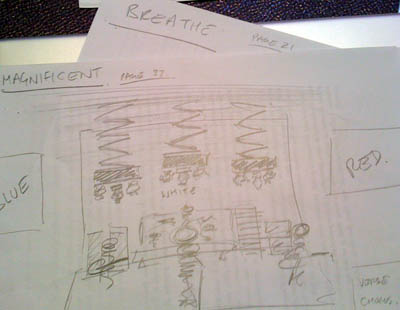 Thursday, 19th February 2009
London/Paris/London. Recce for "Le Grand Journal" at Canal +, TV Studios.
Steve from management, Jake our production manager and I rendezvoused at St. Pancras railway station at the unholy hour of 8am to get the train to Paris. For reasons which never became apparent, despite making the booking at one time, we were seated all three separately, Jake in an entirely different carriage, which had me pondering train travel as a metaphor for life. On arrival, we headed for the TV studios of the 'Canal +' station and found our way to the studio of "Le Grand Journal" culture show.
We were met by the producers, director and technicians from the show, all of whom were extremely helpful. We figured out how the stage layout would be placed and I ran through the few basic points which I have learned to offer up as a guide to what works when shooting U2 for live television. It's a simple approach, which allows a good deal of local interpretation, so most TV stations appreciate the direction.
We were in and out of there in under an hour. It seems like a long way to come for a brief meeting, but even in these days of cellphone videoconferencing, there's still nothing quite so useful as a look at the space and a face to face chat. Jake headed for Charles de Gaulle airport to head on to Berlin to load in our equipment for the Echo awards rehearsal tomorrow, whilst Steve and I headed back to the Gare du Nord where we just managed to miss the 14.30 train. The next one wasn't until 16.30pm so we were forced to retire to the highly acceptable Terminus du Nord restaurant for a splendid white tablecloth lunch.
Back in London I had an evening engagement to see 'Avenue Q' at the Noel Coward theatre on St. Martin's Lane. It's a musical featuring depraved muppets and a great deal of very adult humour. I've never been a great fan of anything involving puppetry, but despite being such strange concept it was pretty entertaining all the same.