New York
Thursday, 5th March 2009
New York. David Letterman Show.
Started the day with another tour video system meeting (well, why not?) before heading to Letterman for our last day. I think it's safe to say that we all feel a little sad at finishing the run. Its been a good time, good people, nice corridors. Amongst today's extra-curricular activities was a meeting to decide on the tour artwork. They've signed off on the name of the tour, being simply 'U2360' to indicate the nature of the production, and as a break from the last couple of tours which were named after singles. The artwork features a silhouette of 'The Claw' (the stage design) which I'm quietly rather chuffed about.
U2 played 'Beautiful Day' on Letterman and then played 'Vertigo' just for the audience at the theatre, which was a great way to end - playing on the same stage that hosted so many iconic acts for the Ed Sullivan Show, not least The Beatles.
After the taping I slipped away to go and see Laurie Anderson perform a short set at the opening of an installation in SoHo. On the way there I was struck by the fact of having been in New York for nearly a week and never having left mid-town. In fact I'd never left 53rd / 54th streets, which goes some way to explaining the cabin fever which is descending. This is also being stoked by the terrifying prospect of a 5am alarm call for the
Good Morning America
appearance tomorrow. How can this be? We are creatures of the night. Mind you, I felt slightly better when I heard the backline guys have a 2.30am call in order to get all the gear there and set up. Can't see many of them going to bed tonight.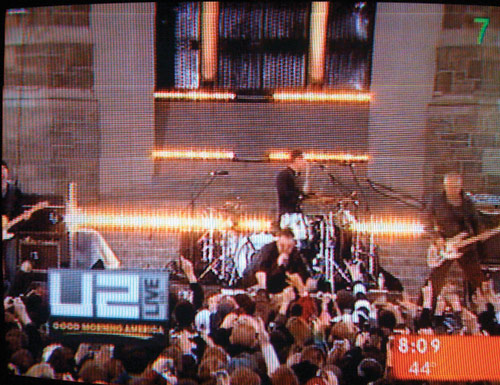 Friday, 6th March 2009
New York. Good Morning America.
Good god, the 5am alarm. I joined the stunned throng in the lobby at 6.01am and was delighted to find I wasn't the last for the six o'clock call.
We piled into vans ('get me in the van, get me in the van, get me in the van, van, meet me in the van') and headed out to the Bronx and the campus of Fordham University.
Good Morning America
was broadcasting their breakfast show live from Fordham, with the programme being built around a live performance from U2. As we rolled into campus the sun was just rising above the trees, which has to be a first for
arriving
at a gig.
The university campus is beautiful and all very Harry Potter, with a big central green. A stage had been built on the steps of the building facing said green and, even at this unholy hour, a couple of thousand students were out on the lawn (very clearly still up from Thursday night.) There were lights and cameras by the shed-load, so Tom, our video director, and I went to find the video truck and the show's TV director. Being a daylight show I was pretty relaxed about it all and on meeting the director had complete confidence that he'd make it look good.
We had been given the use of a couple of rooms, so made ourselves at home. It's a beautiful place and quite grand in a faux-gothic sort of a way. It'd be easy to feel learned in a place like this. Lots of people were milling around, I was introduced to a couple of people from Blackberry who are going to be working with us on the tour, so hopefully between us we'll dream up some fun things to do.
The band, astonishingly, were in great form, all dressed up and ready to go. By sharp contrast, we the staff were all halfway out of our minds and barely awake, but surfing the energy of it. A few of us decided to watch proceedings on the TV in the principle's office, as there was so little space in the video truck. The actual stage was right outside the window, so we had it coming at us from all angles, with a fifteen second delay between the live performance and the broadcast which was very strange indeed.
Good Morning America
had been broadcasting to the nation for an hour or so when U2 took the stage. The ripped into Boots, Magnificent and Crazy, all of which went to plan and the kids, of course, loved it. There was then a break for commercials and some other features, during which I'm sure U2 would have preferred to just keep playing, but given that these other show items were being broadcast from right next to the stage this wasn't an option. In the principle's office we kept watching, and the programme moved on to an item featuring celebrity chef Mario Batali making spaghetti carbonara in the open air. I don't own a TV (ironically) so am unused to the onslaught of American breakfast television, but this struck me as utterly surreal. U2 play three songs, then a large bearded man in sunglasses makes spaghetti outdoors, by the side of the stage, at eight o'clock in the morning.
In sunglasses.
This can't be normal, surely?
After the spaghetti incident, U2 were interviewed on stage then closed the broadcast with Beautiful Day, before playing a couple more songs for the live audience on campus. It looked beautiful on TV, all bathed in a golden light, so everyone was happy.
The band had more interviews and media things to do, so Tom and I sloped off and got the train back into Manhattan. All I wanted to do was go back to bed but I have this show in Boston to organize for Wednesday. It's a radio show which has now become a film shoot, so we have to get a plan together ever so quickly. Tom and I had a late breakfast and drew our plans all over the paper tablecloth, so the stage set might now feature some giant marmalade stains if we're lucky. I drew up a lighting plot, emailed it to a local Boston lighting supplier about whom I know absolutely nothing, then finally put my head down for an hour. In the evening the band threw a dinner for our whole touring party to say thank you and to celebrate an exceptional week in New York. Honestly, you couldn't kick over a rock in New York this week without finding a member of U2 lurking underneath it. Went to bed with the sneaking suspicion that I might actually have a day off tomorrow...