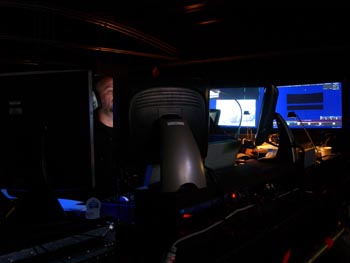 The band played a complete set behind closed doors at the King Baudouin Stadium tonight.

It was the final chance to rehearse the stadium production before the opening show and the band ran through twenty one songs over two hours.

Apart from the oddity of 50,000 empty seats, the fact that the show began in broad daylight with aeroplanes flying overhead showed how different the European dates will be from the North American shows.

But from 'Vertigo' in the light at the start to 'Yahweh', in total darkness, at the close, the scale of the staging and projection turned out to be breathtaking. The wall of video tiles across the back of the stage is as dazzling as anything the band have ever taken on the road. And s well as new songs to the tour like Until The End of the World and even a snatch of Miss Sarajevo, a host of visual content has been specially commissioned for Europe.

'We're just trying some of this stuff out for the first time,' explained Bono, halfway through. 'Forgive us if we keep stopping.'

We don't want to give too much away before tomorrow night, but here's the set list they went with tonight:

Vertigo
Until The End of the World
I Will Follow
Elevation
New Year's Day
Beautiful Day
City of Blinding Lights
Miracle Drug
Sometimes You Can't Make It On Your Own
Love and Peace
Sunday Bloody Sunday
Bullet The Blue Sky
Running To Stand Still
Pride In The Name of Love
Where The Streets Have No Name
One
Zoo Station
The Fly
Mysterious Ways
All Because of You
Yahweh

Full story on the opening night tomorrow. And other news from the tour as it breaks.