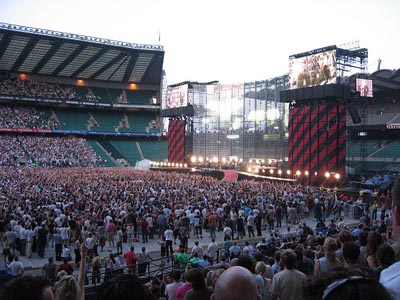 Snapshots from the second show in Manchester on Wednesday night.
* From the moment this show kicked off, it seemed to have a different kind of energy to the previous night. Maybe it was the fact that it started twenty minutes later but everyone seemed to have twice the energy, shaking the entire joint from Vertigo, through I Will Follow into Cry/Electric Co. and Elevation.
* 'This is one we haven't played for a while...' Still Haven't Found What I'm Looking For, one of U2's biggest hits from the late 1980's, made a surprise and welcome debut appearance on 'Vertigo 05'. 'Soul Music...' sang Bono, as a choir of 50,000 sang along with him. 'Soul Music.'
* There was heart music to follow with, another tour first, 'All I Want Is You' ... and what a response! 'You say you want, diamonds on a ring of gold...' The energy levels just refused to let up.
* It's no secret that Edge comes up with some great melodies but sometimes they even mesmerise Bono. During the opening guitar lines for Miracle Drug, the singer completely forgot himself and it seemed a moment or two before he remembered where he was - and that he was supposed to be singing at a gig. 'Sorry,' he said, laughing to himself. 'I was just enjoying that, what a beautiful melody!'
The track was dedicated to 'doctors and nurses, the people that keep us alive.' As one of our fan reviewers put it: 'A funny moment was when he forgot himself and apologised for taking his time starting "Miracle Drug" as he was enjoying listening to Edge's guitar melody so much!'
*City of Blinding Lights opened with Bono swapping his shades with a more low-key pair from a fan down at the b-stage. He then noticed someone holding a pair of balloons on a string, wandered over, succeeded in requesting them and, bang on cue - as the huge screens lit up with dazzling images for the first time - released the red and orange balloons which flew high and proud out of the stadium. 'Oh you look so beautiful...'
* With introductions from Larry and Adam, Love and Peace, Sunday Bloody Sunday, Bullet The Blue Sky and Running to Stand Still were, once again, an inspired segment, a theatrical journey of war and peace finishing up with thunderous applause for the Declaration of Human Rights. (Now where else would that happen?)
* 'This is our moment, this is our moment to
Make Poverty History
. 'The band are going to be at Hyde Park for Live8 and I'm going to be in Scotland for the G8. If you want to be part of it , see you in Edinburgh. Email for Africa, E-mail Tony Blair, Text for Africa, you can be part of it...'
And, with the darkness fallen far lower than the previous night, this time when the phones came out, we really did have a 'Christmas Tree' in the City of Manchester Stadium.
* And we still had Zoo Station, The Fly, With Or Without You, Yahweh and Vertigo again! No wonder, as Sarah Sundance - nice name! - puts it over in our Subscribers area: '12 hours later and I'm still flyin' high! WOW! An awesome experience that had me crying (Beautiful Day), Rocking ( Love & Peace), Jumping (Streets Have No Name) - and oh - the singing! The visuals were intoxicating, I was drawn onto that stage with Bono and the boys. 50,000 of us were One!'
Post and read reviews of this and every show
here