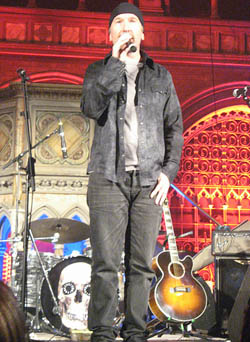 Edge was in London at the weekend, comparing an acoustic night featuring Kasabian and The Hours - part of the annual Little Noise Sessions.

'They support a really crap football team (Leicester City), their music is OK," quipped Edge, before welcoming Kasabian., (Leicester's finest) onto the stage of the Union Chapel. 'They don't have echo on their guitars and they haven't written any songs about '60s civil rights leaders.'

Earlier he introduced The Hours. ('gobby and charming' ). It was a year ago that Edge turned up for another surprise appearance at the same venue, performing an acoustic set with Bono.

This year's Little Noise Sessions are in support of Mencap's 'Don't Stick It, Stop It' campaign, aimed at stopping school bullying of special needs students.

More here.