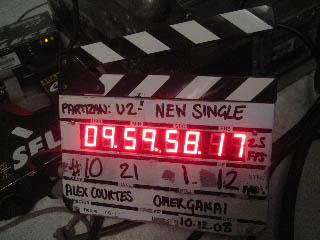 Performing a brand new song, the band worked on the shoot from late morning till late night, the elegantly mustachioed Courtes directing proceedings on the green stage.
We are sworn to secrecy on the finer details of the shoot... but there may have been some marching girls involved. With their boots on.
Courtes last worked with the band - with Martin Fougerol - on the video for City of Blinding Lights in 2005. And their work on 'Vertigo' won them the Grammy for 'Best Short Form Video'. That was the first single release from 'How To Dismantle An Atomic Bomb'...
More as we get it...