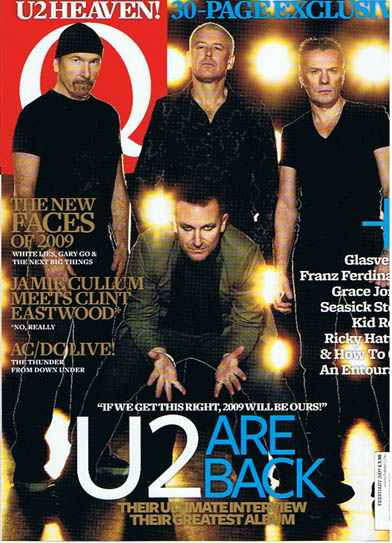 'I think it's some of the best music we've ever written.' That's Larry, speaking in the new issue of Q, which carries four in-depth interviews in a monster thirty page focus on the new record.
Here's some highlights from the interviews which took place at Olympic Studios in London, in the final weeks of recording. Don't miss Q's U2 mini-site
here
Edge on his hopes for the new album.
'I want people to listen to it as opposed to just buying it. I want this to be an album people go back to, and really get into, in-depth. Like all the records I love... I think we've learnt a few things over the years... I think it could be a bringing to bear of all those eureka moments from the past. And I think it could be our best album.'
Adam on how the music came 'from a different place'.
'We'd invited Eno and Lanois to come in as writers. It was a big step up for us to say, "We wanna open the thing up and that will determine the direction." From the first session Larry was performing on an electronic drum kit. Normally Larry drums so hard, it's very hard to spend hours working stuff up when you've got all this bang and clatter. But the electronic kit made him play in a certain way. So the music came from a different place.'
Larry on Morocco
'Bono had been talking about this religious festival and he mentioned it to me, thinking that I'd shoot it down. And I said, 'Actually, that's a god idea, I'd like to go back to Morocco." The last time I was there the food was shite. I was vegetarian, full-blown, verging on vegan, and so it was a difficult time. But underneath all the cultural shock I enjoyed it. So i was happy to go back. I felt musically it would be a very good thing. So we got together and it was an amazing experiment. Threw up all these ideas...'
Bono On Writing in the Third Person.
'..I allowed myself to wear the clothes of characters that wandered into my imagination. So the guy in (new song) 'Cedars of Lebanon' is a war correspondent. I meet a lot of them in my other life. And I have a lot of empathy because I'd probably be one (laughs). And then there's this song that is called 'Tripoli' at the moment, which is this guy on a motorcycle, a Moroccan French cop, who's going Awol. He drives through France and Spain down to this village outside of Cadiz where you can actually see the fires of Africa burning...'
Edge on new song 'Stand Up'
'If you're gonna do a big guitar song I think you have to push it all the way, and that's where we ended up with that one. It started out with this very Moroccan-influenced rhythmic thing. And it's interesting that it's gone from North Africa to rock'n'roll - and in that process you really see how connected they are, the music of Africa and the United States. It's all there.'
Larry on whether the record is 'a return to experimentation'.
'I don't know the answer to that. Initially, the idea was to do this esoteric thing and have a few hits there as well. It's kind of morphed into something else. I think there is experimentation in there.. it's just a different animal. It's not quite what people would expect a U2 experimental thing would be. I mean, if you think of Zooropa, or Passengers, this is not that. This has got a lot of weight.... I think it's some of the best music we've ever written.'
Adam on taking their time.
'...you hear a band that has got to a stage in its life where it can genuinely hold its head up and say, "We like where we are." I think it's great we've actually said, "We're not going to rush this release." We're not going to apologise like we have for every other bloody record and say, "If we'd had more time this would have been better or that would have been better..." We've really got into these songs and they've been finished to the best of our abilities.'
Edge on his hopes for the album.
'I want people to listen to it as opposed to just buying it. I want this to be an album people go back to, and really get into, in-depth. Like all the records I love... I think we've learnt a few things over the years... I think it could be a bringing to bear of all those eureka moments from the past. And I think it could be our best album.'