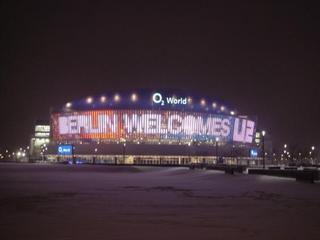 The band have been in Berlin today, rehearsing at the O2 World Arena ahead of Saturday's ECHO Awards.
It's great to be back in the city where they spent so much time recording 'Achtung Baby' in the early 1990's - and the feeling is mutual. The exterior of the venue is emblazoned with a gigantic illuminated greeting:'Berlin Welcomes U2'.
The ECHO Awards are broadcast on ARD TV at 8pm, Saturday evening. More news as we get it.