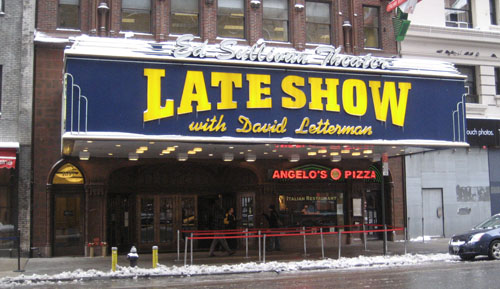 The snow was on the ground but the sun came out yesterday lunchtime as Mayor Bloomberg joined the band and a great crowd of fans to announce the renaming of 53rd St as 'U2 Way'. (At least for the rest of the week, anyway.)
As the band walked from the stage door of the Ed Sullivan Theatre, where they're performing on the Letterman show each night, the Mayor and City Council Speaker Christine Quinn ("The Mighty Quinn") paid tribute to their long friendship with the city - and the band returned the compliment. Then the 'U2 Way' street sign was unveiled - 'somewhere south of Duke Ellington Broadway and north of Joey Ramone Place' as Bono noted.
Watch it all on U2.Com Cam on the
home page
And last night, for the second Letterman performance, Magnificent made its American debut.
YouTube
has the performance.