'It really works.' says Bono, 'It creates this real physical proximity to the crowd.' Rolling Stone on Willie Williams' design for the upcoming tour...
'Toward the end of U2's last tour, in November 2006, longtime show director Willie Williams presented the band with sketches of a four-legged monster - a massive structure with speakers mounted on each side that would allow the group to play stadium shows in the round. On the new tour, which hits the U.S. beginning September 12th, in Chicago (and kicks off in Barcelona, on June 30th), Williams' vision will finally come to life. "The band is just sitting in the palm of the audience's hand," says Williams. "It really works." Adds Bono, "It creates this real physical proximity to the crowd."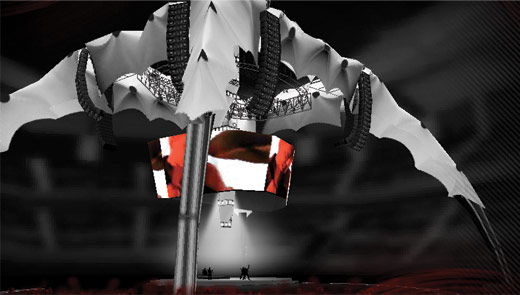 U2's Massive New Stage Set
Inspiration: U2 show director Willie Williams got the idea for the in-the-round set (nicknamed "the Claw") from the futuristic, Disney-style Theme Building at LAX: It looks like a spaceship on four legs.
Structure: At 164 feet tall, the Claw, Williams says, is twice as high as the previous largest stadium stage set, from the Rolling Stones' A Bigger Bang tour. "Theirs would fit underneath this one," he says.
Sound System: Each of the Claw's four sides will have its own full-size sound system - each powerful enough for an entire arena. There will also be 72 separate subwoofers.
Logistics: Currently being assembled in pieces around the world, the set will be made of solid steel - 120 trucks will cart it from show to show.
Read the
whole piece
.