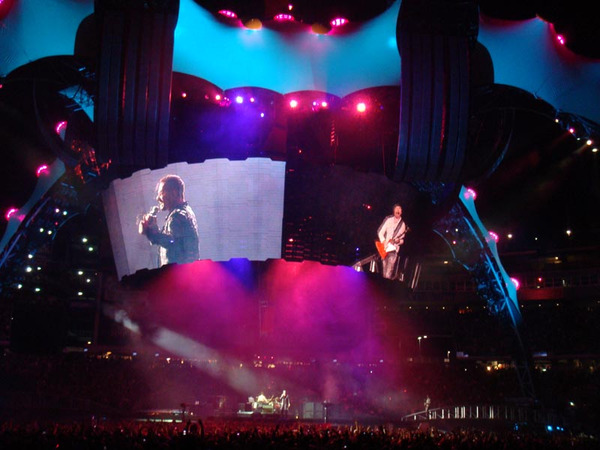 'Tonight we're gonna play old songs, new songs, songs we don't know... but we're not going anywhere without you. Are you ready for the ride ?'
Boston was ready for the ride - witness the inner circle during 'Boots' going up and down like we were at a punk rock gig or the entire stadium grooving out for Mysterious Ways. And then there was Elevation... check out the clip below.
'Irish boy kissing on a tea train, Irish boy in Massachusetts...' There was definitely an Irish thing going down tonight. 'Great to be back home in Boston,' as the singer put it. They've been to this city many times since they first played here in 1981, but they never arrived in space junk like this. Quite an experiment.
'Like to introduce our band: On the right, Experiment One, a mix between jimmy Page and Stephen Hawkins, a test tube baby, The Edge. On my left Experiment Two, his bottom end can move stadiums, a gentleman, a wise owl, a great bass player, Adam Clayton. Experiment Three, not human at all, at 21 gave his body to science, Robocop... Larry Mullen Jnr.
You don't need to know about Experiment Four, work still in progress...'
Tom Cruise, Katie Holmes and Cameron Diaz were also in the house tonight. Here's what the band played. Where you there ?
Tell us what your show was like - add your photos.
Breathe
No Line on the Horizon
Get on Your Boots
Magnificent
Mysterious Ways
Beautiful Day
Elevation
Still Haven't Found
Unknown Caller
New Year's Day
Stuck In A Moment
Unforgettable Fire
City of Blinding Lights
Vertigo
I'll Go Crazy If I don't Go Crazy Tonight Remix
Sunday Bloody Sunday
MLK
Walk On
One
Streets
Ultraviolet
With or Without You
Moment of Surrender