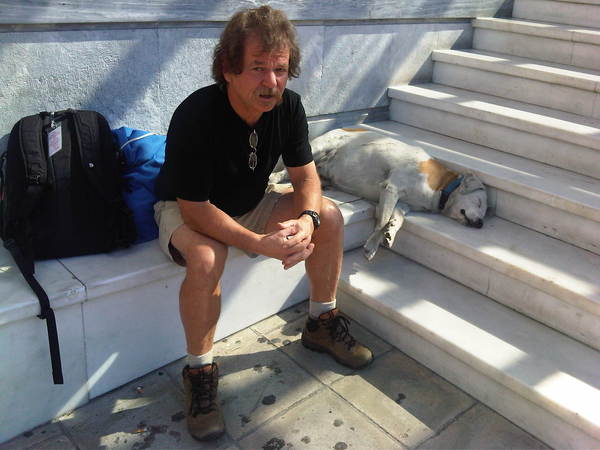 Athens. Show day.

I took a noon van to the venue, stepping over the hotel dogs that were still sleeping on the steps outside. It was another very hot day, but not oppressively so, even in the midday sun.

My first task was to retrieve my laundry, having taken advantage of a new system recently instigated on the 360 tour. The latest addition to our touring village is the world€™s first rock & roll touring laundry service, run by a very affable German gentleman called Hans. He has joined the tour bringing with him a trailer of washers and dryers that get hooked up at each venue. The way the system works is that those in need of clean clothes drop off their laundry bags with Hans who washes and dries them during the course of the day (all in the most eco-friendly manner, he will tell you), ready for you to pick up at close of play. For this service Hans charges '¬15 a bag which, given the number of people on the tour, proves financially viable. In Hans' favour is the quantity of crew indulging daily in activities guaranteed to coat every garment in grime, not to mention that everybody who's ever toured can dig up a laundry horror story or two. The peace of mind that comes from knowing your clothes can be cleaned without even leaving the venue is well worth the fifteen bucks. It's an absolute no-brainer when compared to the Russian roulette of sending your entire wardrobe out to a random drop-off laundry in a city you're about to leave.

Ironing is not (yet) part of the service but I had a little time to spare so holed up in the wardrobe room for a while. Not so long ago the very notion of voluntarily ironing even a single garment was laughable to me (I actually don't think I'd ever ironed anything prior to about 2007) but more recently I have begun to embrace its potential for transformation into a tranquil, Zen experience. The quality of the equipment helps, of course, and the U2 wardrobe room has smoothing gear vastly superior to that which most hotels would throw at you. I emerged an hour later, sartorially refreshed and with an enhanced sense of inner calm, realising that ironing must be one of the few road activities that is simultaneously meditative and productive - far more likely to succeed than, say, attempting to catalogue your receipts whilst doing yoga.

Come show time, it was a beautiful, balmy night and the venue had filled up to (and very possibly beyond) capacity. The floor of the stadium was absolutely rammed, front to back, from bleacher to bleacher, and when U2 took the stage the place just went off. Looking down from above, the sea of bodies was heaving as the entire crowd bounced up and down in unison. People let off flares in the middle of the throng, human pyramids were being built & everyone was clearly having a very good time indeed. I felt like I was back on the Joshua Tree tour, with that festival crowd mayhem flavour. It was really great fun - we should play cities for the first time more often.