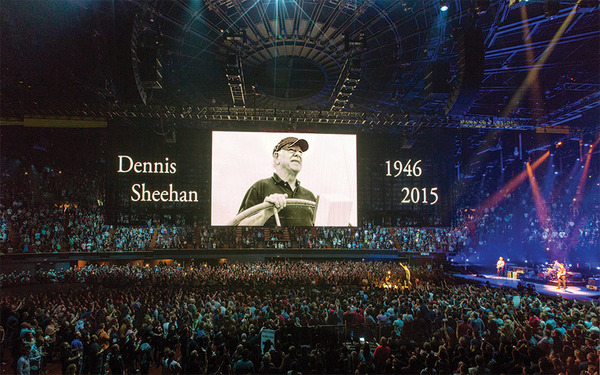 Photo credit: Paul Hebert
'A Kind of Family...'
'U2 is a kind of family. U2 is a brotherhood. Although there are a lot of sisters in it now that I think about it. The extended family are everything to us, We look after each other. Last night we lost a member of our family...'

An extraordinary and moving show at The Forum in Los Angeles as the band paid tribute to their great friend and longtime colleague.

'Dennis Sheehan was his name,' explained Bono introducing Iris, a song inspired by the loss of his own mother. 'He was U2's tour manager for 33 years and he loved, as we all do, the city of Los Angeles…he called the Sunset Marquis his home away from home, he came to this city as a young man working for Led Zeppelin. In fact he always hoped we would be the next Led Zeppelin which of course is impossible...'

Set on honouring what they knew would be Dennis' wish, the band not only played the show as scheduled, they performed with a singular passion - and the 18,000 people in the audience lifted the roof with their singing.

The set list was switched up again, with several songs dedicated to Dennis including Every Breaking Wave, a transcendent version of 'Bad' and With Or Without You.

'Goodnight Dennis Sheehan...'

Perhaps the most touching moment of all came right at the end of a poignant and powerful evening. Edge pulled on the acoustic bass, Adam switched to electric guitar and the opening chords of '40' began ringing round the arena.
Based on the biblical fortieth psalm, the song was written for the band's third studio album 'War', released in 1983, the year that their friendship with Dennis began.

'I will sing, sing a new song
I will sing, sing a new song
How long to sing this song
How long to sing this song
How long, how long, how long
How long to sing this song....'

Were you at the show? Add your own review and your photos on our tour page.