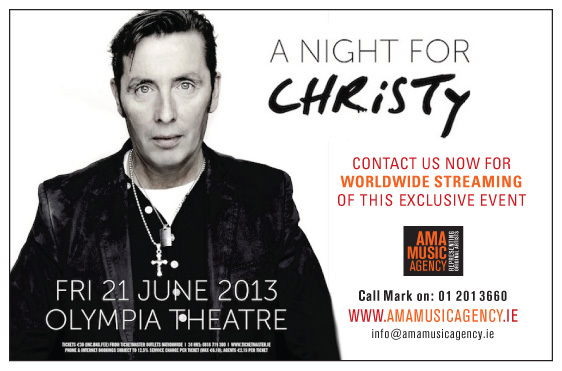 Dublin's Olympia Theatre will host a unique collection of artists this Friday, a collective show of goodwill for Aslan's Christy Dignam. U2 will take part from a studio in New York and the entire show will be streamed live in venues around the world. MC for the night will be the artist Guggi.
Along with U2, performing Aslan's 'This Is', the show will feature performances from Bressie, Danny O'Reilly (The Coronas), members of Horslips, Ryan Sheridan, Paul Brady, Shane MacGowan, Mary Black, Don Mescall, Tom Dunne (Something Happens), Jerry Fish, Steve Wall (The Stunning), Gavin Friday, Mark Feehily, Paul Walsh (Royseven), The Riptide Movement, Jedward, Gavin James and Kiera Dignam.
All the performers have handpicked their favourite song from the Aslan setlist and are stepping into Christy's shoes for one night only. Venues in Dubai, Germany, Czech Republic, Australia, Canada, the UK and across Ireland will be carrying the show live, with more being added every day and the full list announced later in the week on
www.aslan.ie
.
'With the gig selling out in a few hours a lot of fans who have supported the band for years were not able to get tickets.' said Aslan's Billy McGuinness. 'This type of gig will never happen again so its great to give people a chance to see it by streaming it live from the Olympia.'
Watch the stream here.