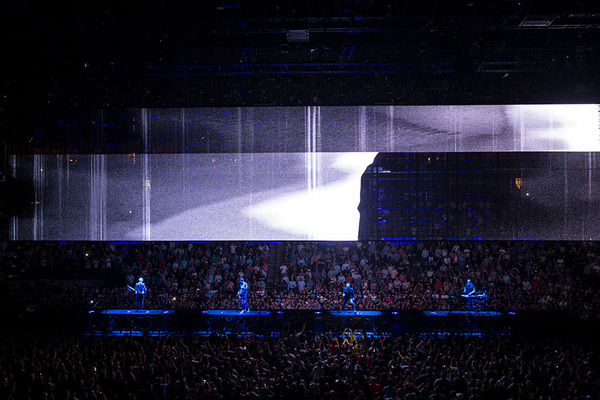 'All Because Of You...'
When & Where
Second night at The Forum, Inglewood, Los Angeles, Wednesday May 16th 2018. Show number 8, a grand farewell to the West Coast of North America for #U2eiTour.
Set List
'Some people get squashed crossing the tracks
Some people got high rises on their backs
I'm not broke but you can see the cracks
You can make me perfect again…'
'All Because Of You' returns to the set after a four show break, then straight into a special version of Beautiful Day: 'Lady Gaga right in front of you', and softly ending in a refrain from 'Black Hole Sun' dedicated to Soundgarden's Chris Cornell and his family. Here's the complete set-list form tonight.
Social Posts
@froidianslip (via instagram)
'I'm witnessing the 21st century Tommy'.
@2oddchicks_n_schmidt (via Instagram)
'When rock shows don't come to you, you go to them. Well worth the 2 hour drive up north. One of the greatest bands ever U2. The LA Forum is a great concert venue'.
@The_FilmFatale (via Twitter)
'I love the way I feel after singing my heart out at their shows! I'm loving this tour so much. It was such a great night to close out my round of North American shows'.
Fansite Coverage
Karen Lindell - @klindell on twitter - is part of the atu2.com fansite team and is currently helping out the cast & crew of the Bono-Edge-Beckett-themed parody play 'Waiting For GoDomino's' that's having a run right now in Hollywood. She was at both #U2eiTour shows in LA, and was deeply struck by the #womenoftheworldtakeover vibe:
'At the beginning, I thought I was done. When Bono sang "Love is all we have left," barely moving out of the darkness into the light, I didn't need much more than that message. And it kept hitting me throughout the concert, via song, gesture, video — even hashtag.
I support with feminine pride the #womenoftheworldtakeover idea, and U2's continuing campaign to hold up women as the ones to not just nurture the world, but save it. Yet what I champion even more is the Experience + Innocence idea that whatever gender we are, we all do better when we simply love one another: "Sisters and brothers," from the #womenoftheoworldtakeover video. All because of you, "we are" (lyrics changed from "I am"). Bono, taking a break from the bullhorn, to remind us in the new album's most fiercely gentle anthem that love is way bigger than anything in its way. And in the end, a question for anyone who's 13, or younger or older: "Are you tough enough to be kind?" At the end, we'd just begun'.
Experience Of The Day
@the_rowdymouse (via instagram)
'FINALLY got to meet The Edge after 2 decades of attending @u2 shows. I got to let the man himself know how much their 1997 experimental album "Pop" meant to me, how that album taught me how to play the drums, the bass, guitar and even how I arrange my own music. The Edge signed both my Pop vinyl and Popmart DVD and told me "Wow, that is so cool. I really appreciate it". Such a great guy, so many thanks to Mr. Dave "The Edge" Evans for making a lifelong U2 fan's day'.
What did Bono Say?
"All because of you… we are!" (during All Because Of You)
"Tonight we're gonna tell you a personal story. Boy searches for his manhood. How the boy tries and fails to hold on to innocence, only later to discover that at the far end of experience is wisdom ... " (The Ocean)
"Going to try to find Iris tonight… running towards us… running away from us"
"You can't have the American dream when you're sleeping. That's what I'm told. So tonight, we sing with our eyes wide open." (intro to Pride)
A big shoutout to the One Campaign, which turned 14 years old today (Madison Ryann Ward is in the house), and 'Love Is Bigger Than Anything In Its Way' dedicated to Smasher & Alison, leaving the tour after all these years.
Review on U2.com / Zootopia
u2diehardperez :
INCREDIBLE energy from U2 last night! (May 16)
Very impressive how the band just keeps getting better with age. I want to congratulate the whole U2 team
on setting up the venues and the GA in particular. The new layout is awesome! I was outside the Red Zone rail and was very comfortable thru out the night! Even saw Lady GaGa walk by me! Also ran into Mexican movie director Alejandro Inarritu! Pride in the name of Love, Love is Bigger, City of Blinding Lights were my favorites!! Also, the acoustic rendition of 'Best Thing' was priceless!!! I've seen U2 in many shows before, and I highly recommend the GA ticket. You can hang around wherever you want, the people are nice and cordial and everyone respects your personal space!!! THANKS U2 FANS for being kind!!
If you were at the show tonight post your review and add your photos.
Second night in Los Angeles and here's the set-list.