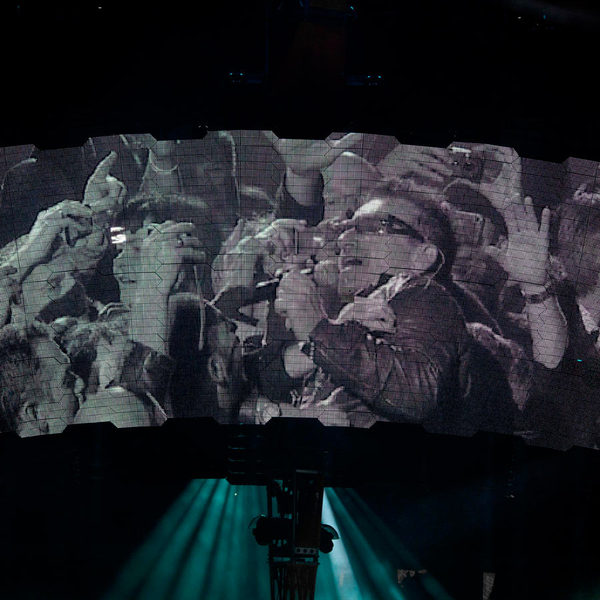 'Where are we going? Antwerp? Bruges? Brussels?' The answer (you guessed already) was Brussels and the scene could hardly have offered a greater contrast than last night's show.
The warm, late-summer sun had gone, replaced by torrential rain and thunderstorms as afternoon turned in to evening and just when we thought we were going to get to dry out - around about the start of Until The End of the World - the rain returned. And didn't let up all night long.
No problem, 60,000 people were soon chorusing 'Singing in the Rain'. 'Thanks for making us feel at home with this Irish weather,' remarked Bono. 'Let's give it up for the U2 crew, the hardest working crew on the planet and not all of them Belgians..'
One legendary crew member got special mention in dispatches tonight, because it was in Cork, 32years ago to this very night that  Joe O'Herlihy first worked the sound desk for U2 - even though they were fifth on the bill.
'He's not really like a sound guy, he's more like a wizard, a sonic diviner€¦.'
Which led to a recollection of another U2 gig in this city many years ago when Joe's stewardship of Adam's bass lines 'registered on the Richter Scale€¦ was on the news€¦ cracks in the wall... long may U2 shows in Brussels feel like an earthquake,  of the heart and soul.'
Where last night we had two new songs after Still Haven't Found (North Star and Mercy), tonight we had two unexpected classics, both making their debut in the set list on the current leg.
 'Let's play a new song,' said Bono, reaching for the harmonica. 'This could be a hit€¦' Angel of Harlem was an instant hit, followed by Bad, greeted with a Belgian ovation. Pretty soon we'd all forgotten about the inclement conditions as the music took over all the way to the end when Larry, Adam, Edge and Bono all raised a Belgian glass of beer in toast to this wonderful audience.
'It's been a special two nights in Brussels for us,' said Bono, as With or Without You gave way to Moment of Surrender. 'Thank you so much€¦'
So how special was the second night in Brussels for you?
Add your own reviews and upload your photos here.