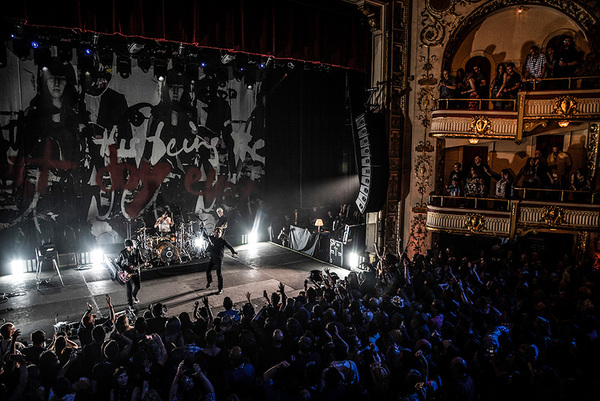 "It was a cold and wet December day
When we touched the ground at J.F.K.
The snow was melting on the ground
On B.L.S. I heard the sound
(Of an angel).
New York like a Christmas tree
Tonight, this city belongs to me,
(Angel).

Soul love
Well this love won't let me go.
So long
Angel of Harlem...

One of the band's most intimate shows in years tonight - 'Sirius XM Presents U2 Live at the Apollo Theater'.

Got to mention Angel of Harlem and When Love Comes To Town, part of a suite of tracks supported by an extraordinary horns section - The Sun Ra Arkestra horns with the Sex Mob Orchestra .

Some early reviews being posted.
Jem Aswad in Variety, writes, 'For their concert at Harlem's legendary Apollo Theater on Monday night — presented by and broadcast on SiriusXM — U2 truly did something special, delivering a unique, carefully curated show, mixing classics and new songs with several deep cuts, including an encore set with the 13-piece Sun Ra Arkestra that featured three rarely played, Harlem-centric songs from their 1988 album "Rattle and Hum." There were none of the dazzling special effects that have become a hallmark of their big-room shows; just lights, a stage, and one of the greatest live rock bands in history at full throttle, roaring through 20 songs from their nearly 40-year catalog.'

Andy Greene in Rolling Stone, writes, 'U2 were a little over halfway done with their special SiriusXM show at New York's Apollo Theater when Bono paused for a moment to soak up the atmosphere and address the crowd, which was a mixture of super hardcore fans, lucky contest winners, industry insiders and celebrities like Steve Van Zandt, Jon Bon Jovi and John McEnroe. "We couldn't have come all the way to the Apollo without bending one knee to the place," he said. "Let's try the song we first played here when we came here in nineteen eighty whatever it was."
He was talking about 1988's Billie Holiday tribute "Angel of Harlem." And as the group launched into it, a backdrop lifted to reveal the 13-piece Sun Ra Arkestra horn section. The surprise moment took an already stellar show – which was a supremely rare opportunity to see the group in intimate setting minus their usual bells and whistles – and elevated it to a whole other level. The horns stuck around for a euphoric "Desire," a re-worked "When Love Comes to Town" and a moving rendition of "Stuck in a Moment You Can't Get Out Of" that they dedicated to Anthony Bourdain and others we've lost recently. "It's been a funny few years," he said. "We lost a lot of very inspiring, useful people and gained a few useless people…"

Full report coming up, meantime here's the set list.

If you were at the Apollo tonight, add your own photos and reviews here.