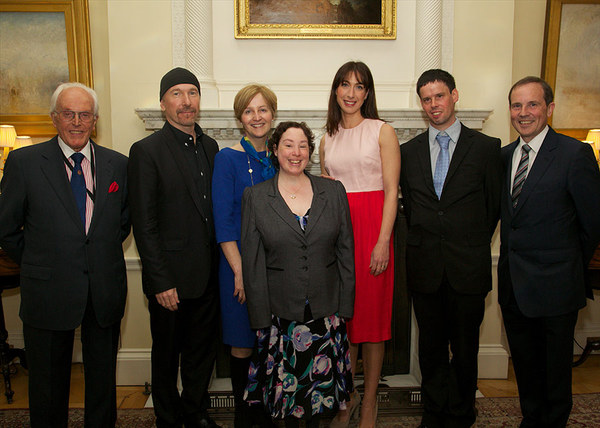 Edge was in London recently for a Mencap reception hosted by Samantha Cameron at 10 Downing Street.
Mencap
is the national voice of learning disability in the UK.
As well as sharing news of the past year, Mencap chief executive Jan Tregelles outlined plans to reach a million people with information about learning disability and the help the organisation offers.
Other Mencap ambassadors at Downing Street included Sunday Times journalist Kate Spicer, whose brother Tom has Fragile X Syndrome, and Radio 2 DJ Jo Whiley, sister of Frances, who has a learning disability. Jo, a longtime friend of U2, is MC of Mencap's annual music nights The Little Noise Sessions -
Edge and Bono performed at Little Noise in 2007
.
'Not many people know what a learning disability is,' explains Edge. 'Or the challenges people with a learning disability face. I've seen how much work goes into Mencap and want to continue to see it flourish.'
Edge was accompanied by his cousin Ciara Lawrence who works for Mencap as a celebrity booker and campaigns assistant.
Caroline White blogged about the evening
for MENCAP and had a chat with Edge.
'I had to speak to him! So I got my introduction and also met his wonderfully inspiring cousin Ciara who has a learning disability and works for Mencap. She excitedly told me how she had just got married and showed me her wedding ring. The Edge told of what a special day it had been, his pride (see what I did there?) gushingly obvious. I said to her, 'That's one pretty cool cousin to have,' and The Edge was quick to chip in that, actually, 'she's one pretty cool cousin to have'. Lovely.'