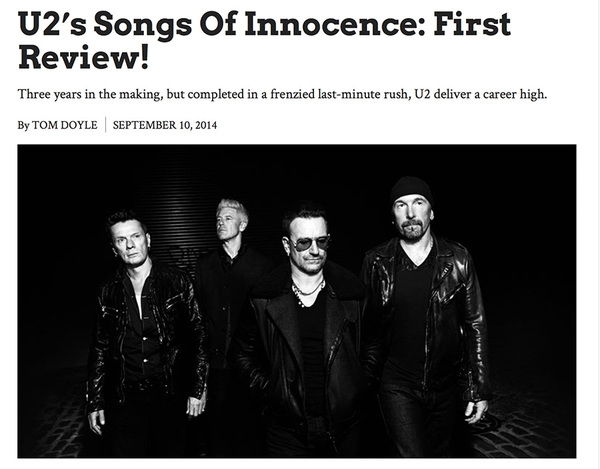 Three years in the making, but completed in a frenzied last-minute rush,
U2 deliver a career high
, writes Tom Doyle for Mojo Magazine.
(10 September 201)
Given the brouhaha surrounding its means of delivery, as per Radiohead's In Rainbows, it may be some time before people get around to properly absorbing Songs Of Innocence. But as the online carpers carped and the devotees thrilled, another truth began to reveal itself: love them or hate them – and in spite of, for the foursome, its teeth-grindingly frustrating gestation – this is the most startlingly fresh, energetic and cohesive U2 album in years. Possibly even because they kept starting it again from scratch and it's hot off the press. That William Blake-lifting title offers another truth. Loosely a concept album, it's rooted in autobiography and their most lyrically candid yet.
In the light of the global machine they've become, it's easy to forget how tough and unlikely the rise of U2 actually was. Key parts of Songs Of Innocence take us back to 1977 when they were The Hype, experiencing punk epiphanies – recalled in the filthy riff and exultation of The Miracle (Of Joey Ramone), and the willing surrender to The Clash in This Is Where You Can Reach Me Now – transformed, but yet to find their own voice. Not the coolest (Bono in the sleevenotes remembers a skewering crowd heckle at an early gig: "More punk in The Monkees!") and growing up in a country riven by violence: street thuggery to add to the political murders.
It's the latter that informs the dark, throbbing anger of Raised By Wolves. In May 1974, four co-ordinated UVF car bombs went off in Dublin and Monaghan, killing 33, the one in Talbot St escaped by the 14-year-old Bono only because he'd taken his bike to school that day and rode it home instead of typically visiting the record shop there. His friend Andy Rowen was not so lucky, locked in his dad's van and witnessing first-hand the full horror, the incident transforming him into the (now recovered) heroin addict written about in Bad (from The Unforgettable Fire in 1984). Still incensed by the incident, here Bono – who often talks of an imagined alternative career as a war reporter – zones in on the details, even down to the registration plate (1385-WZ) of the stolen blue Ford Escort in which the device was planted.
And the finger of blame doesn't only point there. The deceptively lullaby-like Kraftwerk synth pulses of Sleep Like A Baby Tonight backdrop a lyric tackling child abuse within the church: "In your dreams everything is alright / Tomorrow dawns like someone else's suicide." Elsewhere, anyone recoiling from a U2 song called The Troubles may be surprised to find that it's more open-ended and, as spotlit by the appearance of Lykke Li, as much about internecine inter-gender relationships as warring religious factions.
Middle age is a time for reflection and this produces the most grippingly personal elements of Songs Of Innocence. Opening with Quadrophenia-referencing waves sound effects, California (There Is No End To Love), written about U2's first trip to the Golden State, finds the singer liberated from his unsettled, grief-stricken background and falling into the "shiny sea".
There are songs directed at his formative friends Guggi and Gavin Friday and their old locale (the rattling Cedarwood Road) and the singer's teenage sweetheart-turned-long-standing/suffering wife Ali (the soaring Song For Someone). Having obliquely written about his mother – who collapsed at her father's funeral and died from a brain aneurysm when the frontman was 14 – in Lemon from Zooropa in 1993, here Bono pours it all out in Iris (Hold Me Close), comparing her to a vanished star whose light lives on in him. It's a heartbreaker. Moreover, it humanises the man behind the shades.
The image of latter-day Bono is frozen in stone, and not, for many, always in the best of ways. But Songs Of Innocence reconnects U2 with the strident, searching, wide awake band of their nascency, reminding not only us, but themselves, of their against-the-odds beginnings. The result is their best and most thematically complete album since Achtung Baby. By turning towards their past, U2 have found their way back to the future.