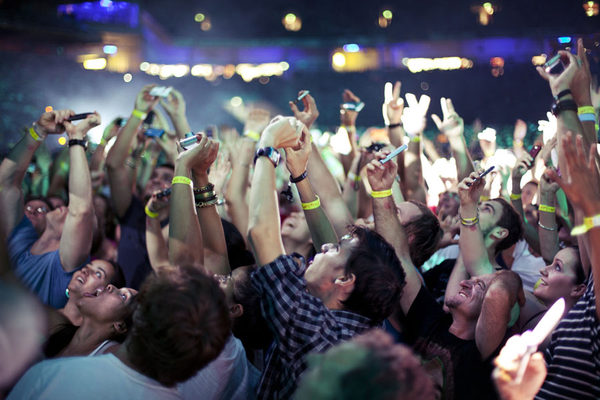 'See Australia right in front of you...' sang Bono during Beautiful Day and on one of the hottest nights of the tour so far, we couldn't just see this great country we could feel it.
'Hotter than last night,' said Bono, 'And that's a good thing... it was a great night last night and tonight we're gonna take it somewhere else.'
Take it somewhere else they did, with plenty of surprises in the set including New Year's Day, Hold Me, Thrill Me, Kiss Me, Kill Me, a spine-tingling version of Bad and a rapturously received closing track in With Or Without You.
Adam was welcomed as the 'Silver Fox' ('wearing the same t-shirt he wore in 1976') and Edge as a man 'just about tethered to this earth', tonight wearing dark grey ('the new black'): 'And I'm your MC for the evening and my name is Bono. Your minstrels are here to serve you and we're gonna play a new song - and this one's called Mercy.'
For a song that has never been on a studio album and been played live less than a dozen times, Mercy is rapidly becoming a 360 favourite.
So there's a few of our highlights from tonight and you've been posting some great reviews of last nights show.
'At times I bopped and clapped and danced... At other times I could only sit and stare, mesmerized...'
'What an awesome show! Staging is absolutely fantastic and even from the farthest away seats possible the view was spectacular...'
'The most awesome night of our lives . . . lighting and video was out of this world. Thanks for the ride on the spaceship!'
Check out the set list on our Tours Page.