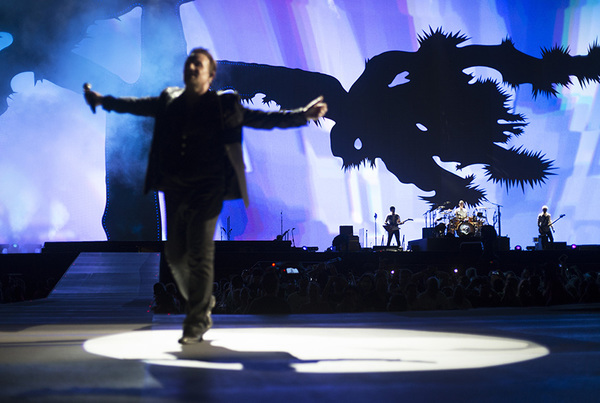 When & Where
Sunday, June 11th 2017. Hard Rock Stadium, Miami, Florida. Night 12 of #U2TheJoshuaTree2017
Set List
The opening: Sunday Bloody Sunday, New Year's Day, Bad, and Pride opened the show. A six-song encore followed The Joshua Tree, closing the night with a new entry to the tour setlist: Vertigo!
Here's the complete set list from Miami.
In The Press
South Florida Sun-Sentinel
'Addressing a crowd dotted with Irish flags, Colombian flags, Venezuelan flags, Brazilian flags and rainbow flags, bandleader Bono interrupted a version of "Bad," with a request. "Permit us a meditation on your country," he said, before leading the audience in several full-throated repetitions of a refrain from "America" by Simon and Garfunkel: "All come to look for Amehhh-rica."
It was one of many reminders during the night of the singular power of U2, among pop-music acts, to create moments of surprising intimacy that unite tens of thousands of people, singing along for most of the night, in an almost literal group hug...'
If You Had To Pick One Song
'Mothers of the Disappeared'
'In the wind we hear their laughter/In the rain we see their tears.'
From @ariodzernbc6 : 'So many transcendent moments at tonight's @U2 show in Miami. One of my favorites was Mothers of the Disappeared.'
What (else) did Bono Say?
'It's mass movements that change history. I think that's something to always hold onto—the power of the people is so much stronger than the people in power,' Bono said during the intro to One, where he talked about the tangible difference organized groups (such as The ONE campaign and its 8 million members around the globe) can make toward making the world a more equitable place. 'The government should fear the people not the other way around,' he said, giving shout outs to Tom Freston (Chairman of the Board for ONE) and U.S. Sen. Marco Rubio, a Miami native and longtime supporter/collaborator with the ONE Campaign. 'I want to thank him tonight,' Bono said of Rubio. "These budget cuts by this president could undo the work, the great work, of the United States of America. So send him a message. This country does incredible things when it works together as one."
As the show concluded in the tropical heat of south Florida, Bono thrilled the crowd by shouting 'MIAMI, MY MAMMY!' a line from 'Miami,' a rarity from the Pop album. (The band hasn't played 'Miami' live since Sept. 11, 1997 in Lisbon, Portugal.)
Top post from U2.com
From wahine: 'Oh My God...Thank you Lord for bringing U2 to Florida on this one year anniversary of the terror attack at Pulse in Orlando!! Thank you THANK YOU!!!! IT SOUNDS MIRACULOUS TONIGHT FROM HERE ON THE SPACE COAST!!'
If you were at the Hard Rock Stadium in Miami, tell us what it was like. Add your own review and photos on our tour pages.