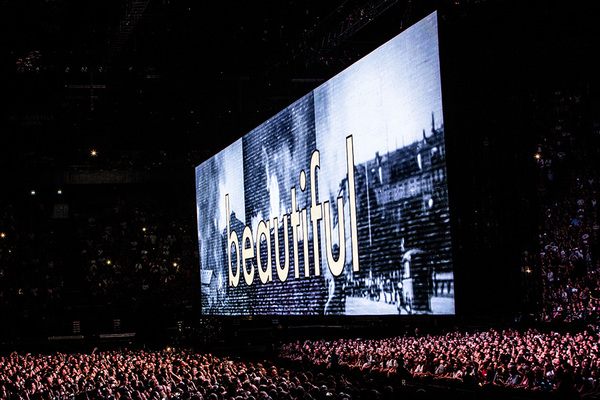 Beautiful Night in Paris
When & Where
Third night of four, AccordHotels Arena, Paris, Wednesday, September 12th, 2018.
Set List
Red Flag Day returns to the set and a shoutout to Beninese singer-songwriter, actress and activist Angelique Kidjo during Beautiful Day, who is in the house tonight. Vertigo got itself a Plastic Bertrand 'Ca plane pour moi' mini remix outro too… Here's the Paris 3 set list.
Experience OF The Day
Susana Silva is a big fan of The Edge, and also of Edges' guitar tech, Dallas. She was 'the happiest girl in here' last night, according to Dallas. Susana wrote on instagram after bumping into him at the show…(translated from Portuguese via google translate) : 'Who is a fan of U2 knows who this master is. Dallas Schoo of his name, is the "partner" of Edge ... they are one! He is also U2 ... After sympathetically agreeing to take a picture with a big fan, he looked for me and said "to the happiest girl in here" and gave me the Edge guitar pick ... My friends ... if I die today believe me I die immensely happy. Signed: happiest girl here ... '
On The Socials
@madfl3a (via Twitter) 'Paris might be the city of lights but tonight it was brighter than any other day. Thank you U2.'
@MysteriousKitik (via Twitter) 'I really dig this new version of New Years Day!'
@AccorH_Arena (via Twitter) 'Et de 3 ! U2 nous a fait vivre une fois de plus une soirée magique et émouvante ! Rendez-vous demain pour la 4ème et ultime date ! Bonne soirée à tous !'
(translation : And 3! U2 has made us live once again a magical and moving evening! See you tomorrow for the 4th and ultimate date! Good evening to all !)
What Did Bono Say?
"Being a star - it's intoxicating stuff. It feeds you a lie you that you so want to believe. Mad stuff, like you were much more interesting than your next-door neighbours or real heroes like firemen or teachers or nurses or carpenters… the lie continues and tells you you're a visionary…. you see things… you understand the secrets of the universe…(depending on the time of the year!). Then, some perfectly sensible person from the top of Cedarwood Road comes down and says… hold on! You're no rock star - you're little Paul from number 10!… and you say WHAT? Paul is DEAD!…. I'm fucking Bono!'
If you were at the third show in Paris, add your reviews and add your photos here.