Stuck In A Moment You Can't Get Out Of, Electrical Storm and Desire are all in the show for the second night at the San Siro.
(Incidentally, it's been crazy in Milan, what a city - people really passionate to see the band. Not just at the gig... as this photo shows.)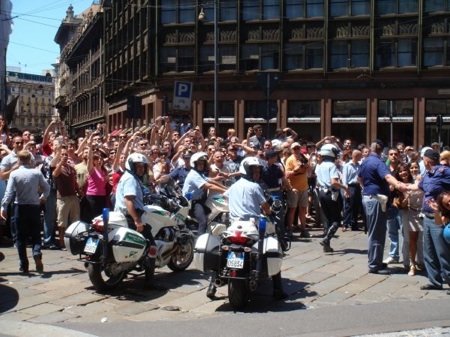 So here's what we loved about the second night in Milan: the passion and volume of the audience; the operatic vibe in Magnificent; the Arabic introduction to Beautiful Day; the snatches of 'Billie Jean' and 'Don't Stop Till You Get Enough' in Desire; the first outing for 'Stuck In A Moment You Can't Get Out Of' and a reminder of the north African birdsong which opens Unknown Caller. 'This is a song we wrote in a small hotel in Morocco... you can hear these birds at the start of the song.'
Italy is at the centre of global politics this week, the leaders of the Group of 8 industrialised countries are here to talk about the credit crunch, climate change and how we can generally all get on a little better. Great tonight to see Italians remembering Aung San Suu Kyi by wearing her mask for Walk On: 'Right now my heart's with a woman. She has been under house arrest for many years, her name is Aung San Suu Kyi ... for the people of Burma we send a message of love.'
How was the show for you tonight? Add your highlights below. Here's what U2 played.
Breathe
No Line On The Horizon
Get On Your Boots
Magnificent
Beautiful Day
I Still Haven't Found What I'm Looking For
Desire
Stuck In A Moment You Can't Get Out of
Electrical Storm
Unknown Caller
Unforgettable Fire
City of Blinding LIghts Vertigo
I'll Go Crazy (Remix)
Sunday Bloody Sunday
Pride (In The Name of Love)
MLK
Walk On
Where The Streets Have No Name
One
--------
Ultraviolet
With Or Without You
Moment of Surrender