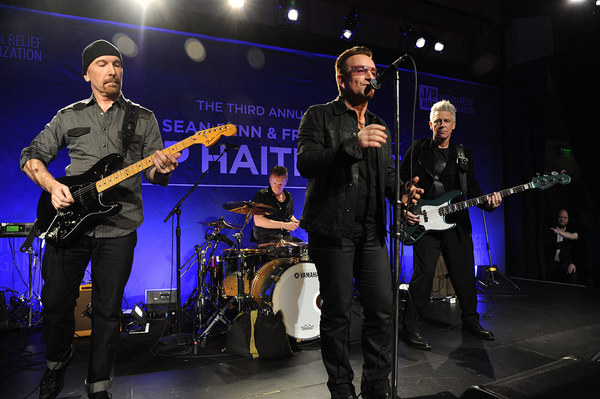 The band played a surprise short set to close Sean Penn's third annual benefit
'Help Haiti Home'
at the weekend. Here's some clips.
'It's been a while since we played a hotel lounge,' said Bono, when the band took the stage at the Montage Hotel. 'I think the last time was a bar mitzvah.'
Performing I Will Follow, Desire and Vertigo to an audience of Hollywood stars, the night before The Golden Globes, it was a fine way to close an evening which raised $6 million for the
J/P Haitian Relief Organization
, working to support the people of Haiti make a sustainable recovery from the 2010 earthquake.
Earlier Edge and Bono had joined Haitian singer Anaelle Jean-Pierre on stage for a version of Leonard Cohen's Hallelujah. There was also a performance by Israeli musician Asaf Avidan and speeches from actors Idris Elba and Emma Thompson. The event was presented by CNN's Anderson Cooper, who told the audience, 'Haiti pulses with life. Tonight, we celebrate that life, and that hope and that strength.'
Sean Penn described what the organisation he founded has done and what the money raised will be used for. 'When I first arrived after the earthquake, we were managing a camp of 60,000 people. It was the biggest camp in Port Au Prince. To know all those people are in homes and have been relocated because of our program.. to walk through that piece of land now that used to be wall to wall tents, that was pretty moving.'