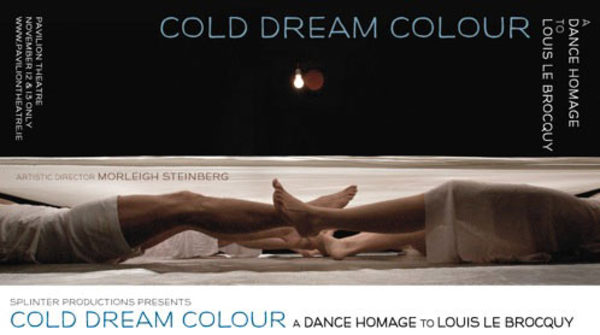 Morleigh Steinberg, choreographer, wife of The Edge, is Artistic Director of Cold Dream Colour: a dance homage to Ireland's greatest living artist, Louis le Brocquy.

The performance features original music by The Edge, and premieres in Dublin this Friday and Saturday, at the Pavilion Theatre. U2.com caught up with Morleigh ahead of opening night.
So, a dance homage to Louis le Brocquy - what's that all about?!
A dance homage - yes! When I first saw his work, about 15 years ago, I thought his paintings were so indicative of dance. For me, they were such an inspiration to create movement and I wanted to study the paintings, to really get into them.
He's such an amazing artist. He's worked so hard his whole life, and has remained so present in his own work. It's all connected, it's all going somewhere, it's all very beautiful to see.
I had a conversation with him, briefly, and I asked if he'd ever seen his paintings danced. He said no, he had never seen his paintings danced! So the idea started there. He so often pays homage to different painters, and I thought, for his birthday we could pay homage to him.
Where did you start?
I looked at the whole body of his work, and then chose some of his periods that seemed relevant to movement or to theatre - or that really moved me, and stirred my soul. I asked two other choreographers - Liz Roche, from Ireland, and Oguri, who is Japanese and lives in LA - to look at the work too, and to see what they gravitated towards.
We studied the paintings, and the ideas behind them, and the technique and the colour, and started to make a piece from there.
The first ones I looked at were The Heads - beautiful white faces coming out of this beautiful light atmosphere. There is something so primal and so spiritual about them. So that was my first inspiration. And then the whole grey period, which had to do with post-war Ireland. A very bleak subject matter, but there's always hope in Louis' work.
Have you created a narrative to the performance?
There is a narrative in the way he painted, and we kind of stuck to that. There's always hope in his paintings, a hope that rings true: the hope in the human spirit, in being human.
The dance is not chronological in terms of his work; it's a loose narrative, just as his paintings are. You only ever look at one painting at a time, after all. They're snapshots.
But I really didn't want to create a literal interpretation of his paintings. I wanted to ask, what do they inspire in us?
How did Edge get on, creating the original music?
Well, he and Paul Chavez and I got into a studio, and it was a lot of fun. It's so freeform; you're creating sound beds. There are some melodic pieces, and pieces with rhythm; but it was fun and liberating for him to work on sound, rather than to work within the distinct structure of rock songs.
I asked them, "What do these paintings sound like? What is their sonic atmosphere" I didn't want them to make music for the dance, as such; I wanted them to make music for the paintings.
The result is at times atmospheric, and at times tuneful. But there are no vocals. It's been recorded, but it will be mixed live by Paul on the night. So the music feels organic within the performance.

Was Edge using synths, or guitars, or what?
Oh my God... they used everything from a glass harmonica to guitars, to strange keyboards, to bottles€¦ It was such fun. It was a lot of work, but a lot of fun.
Edge is pleased with how it's turned out. We did a workshop performance earlier this year and he was very happy with it.
You're from the States, and Louis le Brocquy is one of Ireland's great living artists. Is this a cross-cultural embrace, for you?
When I first arrived here, I didn't have much connection with Ireland at all - and looking at his paintings helped me to make a connection. I began to understand Ireland more, because I could relate to his paintings on a physical level. It was very personal; they helped me to feel more at home.


What do you hope your audience will take from Cold Dream Colour?
I hope it hits people at a very guttural level, as Louis' work does. We're dancing from the inside out. It's not a superficial performance, that's for sure. Even if people don't understand it, they will still feel something.

Is Louis coming?
We hope so. He's turning 94 on Wednesday, so it depends how much energy he has.
If he does get to see it, what do you hope he'll draw from the experience?
You know, even if he just listens to the music and is inspired by that, I think it would be great. If he sees the performance and feels something of his work within it, that would be a success. And if he comes and just falls asleep and has a wonderful dream, I'll be very happy.
Further info on this weekend's performances
here
.