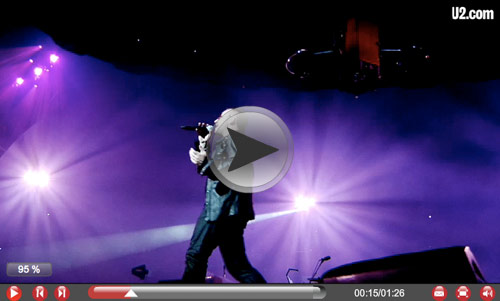 As our clip shows it was a crazy night in Amsterdam - here's a few highlights we picked out. If you were at the ArenA tonight, add your reviews below.
* Ninth show of the tour and the first time that 360 has come indoors. The Dutch were some of the earliest fans of the band outside Ireland and the UK and have always been some of the loudest. Louder still when there's a roof overhead.
* 'See the world in green and blue/ Larry Mullen right in front of you'.
* 'Some funky stuff please..' Nothing is funkier than Mysterious Ways and as the groove gets going and a stadium gets moving, Bono pays thanks to this city and country. 'Thank you for so many nights in this city, the mysterious and magical port of Amsterdam. We've a lot of history here...' Some of that history, like photographer Anton Corbijn, is here for the show.
* It's the fortieth anniversary of Neil Armstrong's walk on the face of the moon, a moment that impressed itself on a 9 year old future rock star. 'I remember it so well, an image of making the impossible possible and I've held on to that with more earthly problems...' Fittingly the astronauts from the International Space Station make a brief cameo on screen, holding up signs reading, 'The Future Needs A Big Kiss.'
*
'Keep On With The Force Don't Stop/Don't Stop 'Til You Get Enough.'
Angel of Harlem, first written for Billie Holliday, is back in the set tonight, a playful acoustic interlude and a tender tribute to the late, great Michael Jackson.
* 'We were teenagers when we first played the Paradiso, Larry still is a teenager. Apart from that everything's changed. Still got a long way to go, Adam, Larry, Edge and myself...' Bono's Auntie Eileen is not a teenager. She is in fact 80 years old and at the show. 'All the Hewsons in the house tonight!'
* What's the betting that with the down and dirty dub remix of 'I Know I'll Go Crazy If I Don't Go Crazy Tonight' we are witnessing the birth of a stand-out track in the pantheon of great U2 songs. When Larry arrives on the b-stage with the djemba, it's the cue for all four band members to perform to all four quarters of the house. While Larry and Adam and Bono complete a lap of the b-stage, Edge goes one better, completing a double lap.
* Something of the Vertigo Tour about One, when the lights go down and 50,000 people take out their phones. 'There's planet earth... and here's the Milky Way...'
Here's the set list - add your own reviews.
Breathe
No Line On The Horizon
Get On Your Boots
Magnificent
Beautiful Day
Mysterious Ways
I Still Haven't Found What I'm Looking For
Angel of Harlem
In A Little While
Unknown Caller
Unforgettable Fire
City of Blinding LIghts
Vertigo
I'll Go Crazy (Remix)
Sunday Bloody Sunday
Pride (In The Name of Love)
MLK
Walk On
Where The Streets Have No Name
One
--------
Ultraviolet
With Or Without You
Moment of Surrender