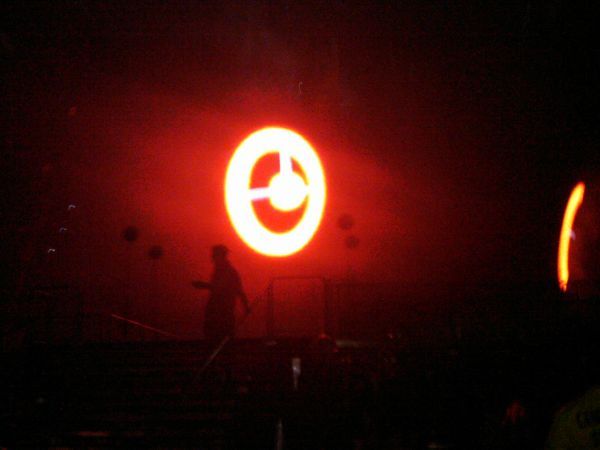 'Desert sky, dream beneath the desert sky.' We were briefly In God's Country tonight, as Bono slipped in some lines from a 1987 Joshua Tree classic into a 2001 classic Beautiful Day.
Pretty incredible line up of special guests at the show tonight - led by President Bill Clinton, who got quite an ovation when Bono credited him for igniting the campaign to cancel the debts of the poorest countries.
Also in the house tonight rock'n'roll royalty in the persons of Chris Martin of Coldplay and Brandon Flowers of The Killers as well as Hollywood royalty with Sean Penn, Jessica Alba, Elizabeth Shue and Kate Bosworth. (And a technology and design monarch in Apple's Jonny Ive.)
Audience in fine voice and looks to be some new video making its way into the set... but we won't say too much about that. After all, everyone can see it for themselves... on Sunday night.
Till then, tell us how it was for you in Las Vegas tonight ?
Tell us what it was like and post your photos
in our comments area.
Here's what they played.
Breathe
Get on Your Boots
Magnificent
Mysterious Ways
Beautiful Day
I Still Haven't Found What I'm Looking For
Stuck In A Moment
No Line on the Horizon
Elevation
In A Little While
Unknown Caller
Until The End of the World
Unforgettable Fire
City of Blinding Lights
Vertigo
I'll Go Crazy - Remix
Sunday Bloody Sunday
MLK
Walk On
One
Where The Streets Have No Name
Ultraviolet
With or Without You
Moment of Surrender