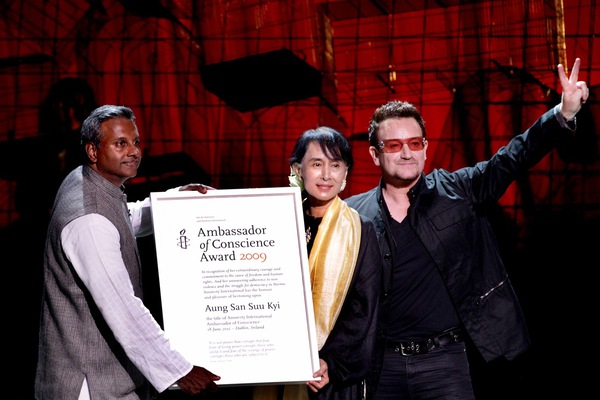 'There is no one on this island who doesn't understand how costly the word freedom is. How difficult the word justice is to live by. How quixotic peace can be. After all your years of wide-open heartache in an enclosed space, your newly travelled road has brought you here to Dublin at a big old bun fight in your honour… and we love that.'


At Electric Burma at the Grand Canal Theatre in Dublin this evening, Bono presented Aung San Suu Kyi with Amnesty International's 'Ambassador of Conscience' Award. The award was originally announced from the stage when U2 played Croke Park in July 2009 - while the Burmese Nobel Peace Prize recipient was still under house arrest in Burma.
'The honour is ours just to be in your presence,' said Bono in his
speech
. 'Everybody is here to sing for you tonight, but it's your song that everyone wants to hear. It's your song we need on the radio all over the world… your words… your topline melody. It's a timeless song yet it seems more important in this time, than ever before…'
Responding to the award
Aung San Suu Kyi
said that it was a reminder that 'Twenty four years ago I took on duties from which I shall never be delivered but you have given me the strength to carry on.' In Ireland she had discovered just how much people care: 'I had not expected this.'
'I feel very close to you. The British used to refer to the Burmese as the Irish of the East. We never quite understood why. Some say it was because we never gave them any peace, we were very rebellious and others say it was because our men like their drink and we are all rather superstitious.
For whatever reason tonight I feel proud to be your Eastern counterpart - I am very happy to be the Irish of the East.
'Throughout these years, you and others like you, and Amnesty International and other organisations like AI have helped us to keep our small wick of self respect alight. You have helped to keep the light. And we hope that you will be with us in the years to come, that you will be able to join us in our dreams and not take either your eyes or your mind off us, and that you will help us to be the country where hope and history merges.'
Irish and international artists from the worlds of music, drama, cinema and dance took part in
'Electric Burma'
, a three hour show organised by Amnesty International.
An audience of 2,000 saw Riverdance open the show followed by Donal Lunny leading a chant of Aung San Su Kyi's name. Music came from Damien Rice and Angelique Kidjo while actor Vanessa Redgrave read Seamus Heaney's 'The Republic of Conscience'. Human right activists such as Wu'er Kaixi, the exiled leader of the Tiananmen Square protest, reminded the audience of political prisoners across the world who remain behind bars. The set featured a wall of opened birdcages, referencing
the lyrics to Walk On
and Aung San Suu Kyi's release from house arrest.
Read Bono's speech and Aung San Suu Kyi's response in full here
.
Watch Bono's
interview with RTE News
.
From A Conspiracy of Hope in 1986 to a clandestine film trip to Burma in 2011, our slideshow charts
U2's long collaboration with Amnesty International and with Aung San Suu Kyi.
See also

MYANMAR: OPEN LETTER TO UN

'THIS, WE NEVER IMAGINED…'