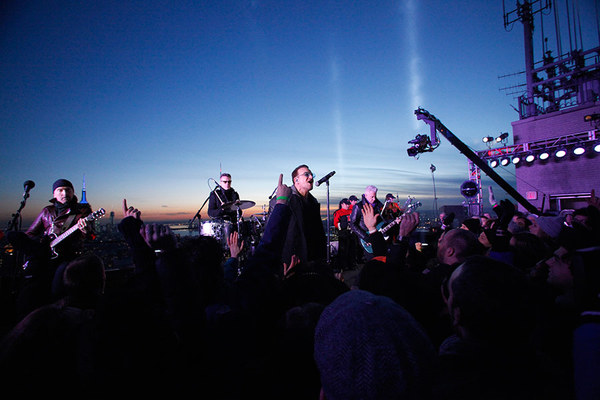 Premiere of
The Tonight Show Starring Jimmy Fallon
and the band were in New York, performing
'Invisible'
on top of 30 Rockefeller Center, chatting in the studio and delivering a beautiful acoustic version of 'Ordinary Love'.
Watch Invisible and Ordinary Love Performance
As
Rolling Stone
put it: 'The group played "Invisible," with a little help from the Rutgers University drumline on either side of drummer Larry Mullen, Jr. Bono came from the wings and pounded his fist into his hand, feeling pumped up to be playing for the intimate crowd. The aerial shots of the crowd jumping in such a small space made for one of the most dramatic U2 visuals since they played on a roof for 'Where The Streets have No Name.'
Did you catch the show? Let us know how it was for you, down in the comments? Here's some of the first reaction on Twitter.
@U2 This native New Yorker and lifelong fan will never forget sharing the Top of the Rock with Bono, Adam, Larry and Edge. Thank you boys.
@U2 @FallonTonight The "handing out of guitars" felt priceless to me. I knew something spectacular was about to happen....and it DID! #U2