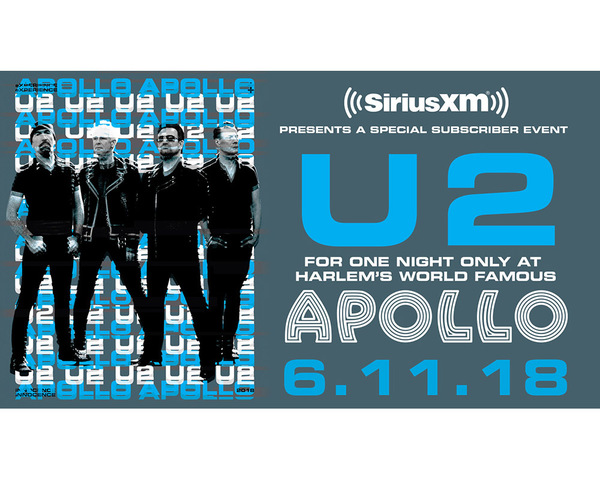 'For One Night Only…'
SiriusXM will present a special U2 show at Harlem's legendary Apollo Theatre next month - the band' s most intimate New York City show in nearly twenty years.
SiriusXM announced today that U2 will take a one night detour from the "technologically advanced… sensational" (The New York Times) production of the eXPERIENCE + iNNOCENCE Tour 2018 to perform for the first time ever at Harlem's world famous Apollo Theater.
This special invitation-only concert exclusively for SiriusXM subscribers will take place Monday, June 11, as announced by Howard Stern today during his live SiriusXM show.

The concert is a rare theater performance for the band who'll be playing material from Songs of Experience alongside classics from the catalogue. This will be the first time the band, who paid homage to Harlem's Billie Holiday on their 1988 song "Angel of Harlem," has played the legendary venue.
It's also the first time since their 2000 Irving Plaza show that U2 will play such an intimate New York show - harking back to the band's roots touring the club circuit, a period revisited nightly during the first half of the eXPERIENCE + iNNOCENCE shows.
The special concert will air on SiriusXM's XX, via satellite on channel X and through the SiriusXM app on smartphones and other connected devices, as well as online at siriusxm.com.

"New York City and the U2 band have a unique history," said Bono. "From the songs of Lou Reed, Billie Holliday and the Ramones that taught us how to listen, to the New Yorkers at our earliest U.S. shows who taught us how to play, the souls of New York and U2 have always been intertwined. The Apollo Theater is the heart of New York's musical soul, and to finally be playing our songs on the same stage where James Brown begged Please Please Please is not only a bucket list moment, it's an incredible honour."

The legendary non-profit Apollo Theater is known for launching the careers of countless iconic performers, and has been a catalyst for artistic excellence and innovation since it opened its doors in 1934. The Apollo's new artistic vision builds on its legacy and new Apollo programming has music as its core, driving large scale and more intimate music, dance and theater presentations. For more information, visit www.apollotheater.org.

SiriusXM has presented special, private concerts at the Apollo Theater with Paul McCartney in 2010, Bruce Springsteen in 2012, Metallica in 2013, James Taylor in 2015 and Guns N' Roses in 2017. SiriusXM subscribers will have the opportunity to win tickets to this private performance through an invitation sent by e-mail. Plus subscribers since April 18, 2018 will be able to enter for the chance to win a trip for two to New York, NY including airfare, hotel stay and a pair of tickets to SiriusXM Presents U2 at the World Famous Apollo Theater. See Official Rules for complete details at siriusxm.com/U2.