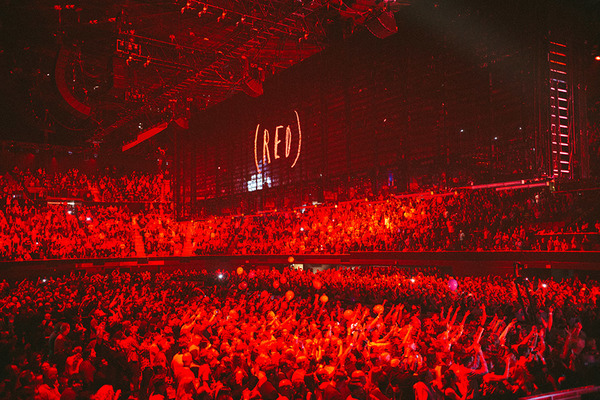 'Break on through to the other side' went the clarion cry added to the end of second song The Electric Co. and the 4th capacity crowd of U2's Forum run responded in kind. 'The last time Electric Co was played at consecutive shows was in 2005 - October 29th in Dallas and November 1, Los Angeles.' That's according to @U2gigs.
'Any Spanish speakers in the house? Maybe you can help us count this in...' If the reception for Electric Co was loud, it went up a few decibels for Vertigo, with 20,000 voices responding in unison, 'Uno! Dos! Tres! Catorce!' And from a 2005 hit seamlessly back to 1980 and the opening notes of their first American hit in the city where they had that hit.
'I was on the outside when you said
You needed me
I was looking at myself
I was blind, I could not see....'
From one end of the show to another and no-one saw this coming - a transcendent All I Want Is You played live for the first time since Montreal in July of 2011 and the final song in a triptych of Rattle'n'Hum tracks tonight, after Angel of Harlem and When Love Comes To Town. Dedicated at its close to Dennis Sheehan and his partner Pam, those final lines soaring out across the city.
Snatch of California in Beautiful Day and a hint of Coldplay's Yellow in the outro. Is that Chris Martin in the house again tonight?
The encore began with City of Blinding Lights and concluded, like night two here, with '40' - and a poignant dedication to family members of Dennis Sheehan, in the audience tonight: Tess, Luke, Zoe, Rikki, Tim, Coralie... and to Pam.
'I will sing, sing a new song.
I will sing, sing a new song.
How long to sing this song?
How long to sing this song...'
Were you at the fourth show at The Forum ? Add your own review and photos here.