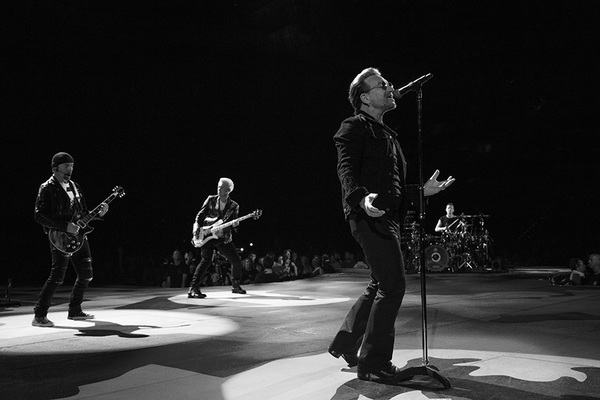 When & Where
Friday, September 22nd, 2017, SDCCU (aka Qualcomm Stadium), San Diego, California; the 40th (and final U.S. show) of the #U2TheJoshuaTree2017
Set List
It's been more than a dozen years since U2 played San Diego (where they opened the Vertigo Tour at the SD Sports Arena on March 28, 2005), and the massive Friday night Qualcomm audience gave them a hero's welcome. It was a special night marking the last of 27 U.S. dates on the Joshua Tree tour before the band heads to South America early next month. 'Miss Sarajevo (Miss Syria)' and JR's moving film featuring 15-year-old Omaima from the Zaatari refugee camp in Jordan returned to the set for the second time on this leg of the tour, opening the encore on what was a few hours shy of the 20th anniversary of the band's historic concert in Sarajevo on Sept. 23, 1997. The encore also included an intimate, acoustic version of the band's new single 'You're The Best Thing About Me.'
Here's the complete set list from San Diego.
Social Posts
@harmanjennifer: '30 years after I saw you in AZ for the original #JoshuaTree tour, I got to see you again in San Diego for your final night. It was the best!'
@dianahandall: 'First from Phoenix. Now from San Diego, Bono & @U2 continue sending their love & support to Mexico. Thanks! Mexico loves you back!'
If You Had To Pick One Song
'You're The Best Thing About Me'. 'I can see it all so clearly/I can see what you can't see…'
Leonard92: 'Last night of the Joshua Tree tour in the USA! Thanks U2. We brought our kids, passed the torch! Loved the acoustic version of "Best Thing About Me"'
'I had a dream, I had a bad dream…' Bono said as he began singing the pared-down acoustic version of the first single from the band's forthcoming 'Songs of Experience' album. Bono said he wanted to play a special version of the song for the woman who inspired it, his wife Ali Hewson, who was in the audience Friday night.
What (else) did Bono Say?
Mexico was on the mind of the band as it closed the U.S. leg of the tour in San Diego, just a few miles from the border with Mexico.
'Thank you for coming out to see us this Indian summer evening, whether you crossed the city, crossed the state, or crossed the border,' Bono said. 'You put some faith in us and we've got a lot in you.'
During 'One', the show closer, Bono asked Willie Williams to turn down the lights so that 'we can see those stars come out for the people of Mexico City—we get to carry each other! Fuerza, Mexico! Fuerza!' he said. Fuerza is the Spanish word for 'strength.'
He also included a snippet from 'Drowning Man, changing the lyrics to lift up Mexico City, which suffered a massive earthquake on September 19. 'Rise up, we will rise up, with wings like eagles…we will run and not grow weary. Viva, viva, viva Mexico! Viva, viva, viva Mexico!'
Other Noteworthy Stuff
Actor-activists Ashley Judd and Robin Wright joined the other 'luminous icons' of the HERSTORY multimedia installation that accompanied 'Ultraviolet'.
Shout Outs: To actor-activist George Clooney, in the audience with his wife Amal: 'George! George Clooney! God Bless you and the Clooney Foundation for justice!' Bono said during 'Miss Sarajevo'. Bono also said goodbye to Craig Evans, the band's longtime tour director whose last show was San Diego after more than 20 years with the band.
Review from The San Diego Union-Tribune:
'It could have easily been 1987 in San Diego Friday night when the iconic Irish band U2 performed its revolutionary album "The Joshua Tree" in its entirety, all 50 minutes and 11 seconds of it in chronological order. It could have been 1987, but it wasn't. "Nothing's changed; everything's changed," Bono declared after a rousing delivery of the album's first song, "Where the Streets Have No Name." Building an entire concert around a 30-year-old album seemed, on its face, an emotional ploy to relive the past, dredging up memories and flirting with old passions. It was a dangerous proposition, and in the wrong hands, it could have been disastrous. In U2's hands, it was anything but. "The Joshua Tree,"the band's critically acclaimed fifth studio album, came of age in the era of Reagan and AIDS and heroin addiction, at a time of economic and political unrest and natural disasters.
It became crystal-clear Friday night that the band had zero interest living in the past. It plucked "The Joshua Tree" from its resting place in 1987 and dropped it in the heart of 2017. Their message intact, the album's songs breathed with a new sense of urgency, speaking to a world marred by the ravages of climate change and opioid addiction, at a time of political and economic upheaval….'
Reviews on U2.com:
Brentco: 'We were all elevated right out of the stadium. Thanks for another transcendent evening! Message to America, received and loved.'
Leonard9227: Dream beneath a desert sky!!! Dream come true! Seeing U2 perform the entire Joshua Tree on the last night in the USA! Road trip through the landscape that inspired it!!
Were you at the show in San Diego? Tell us all about it. Add your own review and photos on our tour pages.