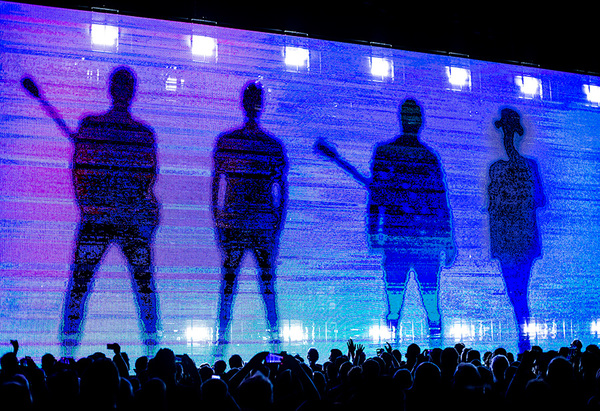 Getting Vertigo in Germany.
When & Where
Second night in Lanxess Arena, Cologne, Wednesday September 5th 2018.
Set List
Lifting the roof of the Lanxess Arena in Cologne tonight with a special shoutout to longtime friend from the days when everyone gave everyone another name: 'Bottle Of Milk right in front of you'. Here's the full set list from Cologne 2.
Experience of the Day
Caroline van Oosten de Boer, owner of U2 fanzine @U2log was at the show and wasn't surprised by that shoutout (via twitter) :
"See the Bottle of Milk standing right in front if you." Actually, he's standing next to me. (for more info on 'Bottle Of Milk' check out these tweets from zoomod @MaxTsukino : https://twitter.com/maxtsukino/status/1037413836066832384 & https://twitter.com/maxtsukino/status/1037416395972272128)
On The Socials
@Chulia83 'Maybe I'm going to repeat myself the next couple of days, sorry, but: I'm still not over how beautiful @u2's #u2eitour is and what a wonderful, personal, heartwarming, sometimes funny and well figured out storyline they brought up on stage here'
Reviews
Written by Christian Beyermann for Reflections Of Darkness website : '...Around half past 8pm, the lighting was dimmed, the Noel Gallagher song 'It's a Beautiful World' started playing, and the giant screens came to life with a video projection of a mash-up of scenes from Charlie Chaplin's iconic film 'The Great Dictator', interlaced with pictures of real and would-be dictators (think Kim Jong-Un and Donald Trump), destroyed cities all over Europe in the aftermath of WWII, and demonstrating youths bearing "Refugees welcome" banners... U2 started playing 'The Blackout' from the 2017 'Songs of Experience' album from inside the barricage, of which the main upper part was slowly lifted towards the ceiling. What became immediately clear is that the sound engineers had done a tremendous job. Wherever you were inside the huge arena, you were truly immersed into the soundscape of the concert without losing a sense of direction where the music originated, and all instruments and Bono's distinct vocals came across in a perfectly clear way. ..
The song 'Sunday Bloody Sunday' saw Bono and his band members marching on the barricage towards the other stage. The stage transition was also marked by an abrupt change in looks, as Bono donned a black coat, a top-hat, and a ton of make-up to mark his metamorphosis into a Mephistopheles -like character. This was augmented by the screen projection which positioned a devilish mask onto Bono's face, while he was singing songs like 'Elevation' and 'Vertigo'.
What Did Bono Say?
'A story of four ordinary boys, made extraordinary by our music and our audience… we are very humbled to be in this position'
'Danke danke… In Berlin I could not sing that song… but you sang it for us…we will be forever in your debt,'(after Red Flag Day)
'Blessed is Köln, the heart of Europe, the blue of the sky we share and the yellow stars over our heads'
"Danke für die geile Nacht!"
Zootopia / Fan Reviews
zootopian Saydee was at the show and was updating us live with video snippets via twitter, you can review the night through her tweets here.
If you were at the second show in Cologne, add your reviews and add your photos here.