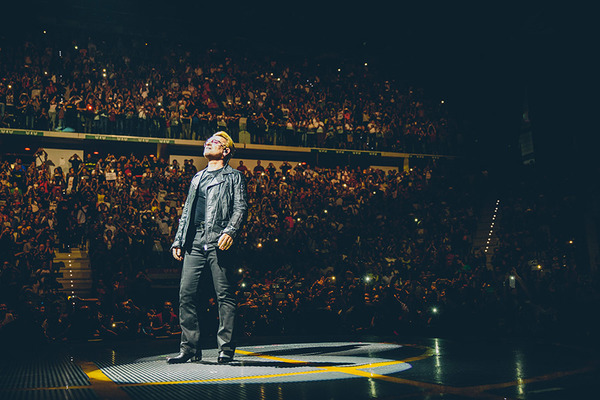 'I try to sing this song
I, I try to stand up
But I can't find my feet.
I, I try to speak up
But only in you I'm complete…'

Like 'Two Hearts' last night, Gloria got only its second performance in Europe in a quarter century tonight - and it sounded like it was made yesterday.
The same was true for another, even older song.
'Can you believe it?' asked @U2tour on Twitter,' I Will Follow has been played at 779 shows before tonight, and it still is so fresh..'

And then there were seven songs which were celebrating their first anniversary tonight - all of them from Songs of Innocence, released a year ago tonight.
None was more powerful than Iris.

'So many attachments to this city…so many wonderful nights I remember walking these streets with Hermann Brood on his birthday …
In this great city, the port of Amsterdam
I remember the night Larry Mullen turned 21 when we were playing in the Paradiso Club, not so far from here
So many of us are still the people who grew up on the streets of our childhood...
All shaped by first experiences
because all of us are formed by our first experiences…our first love… our first fights in the playground..first losses…'

Were you at the second show in Amsterdam ? Add your own reviews and photos here.