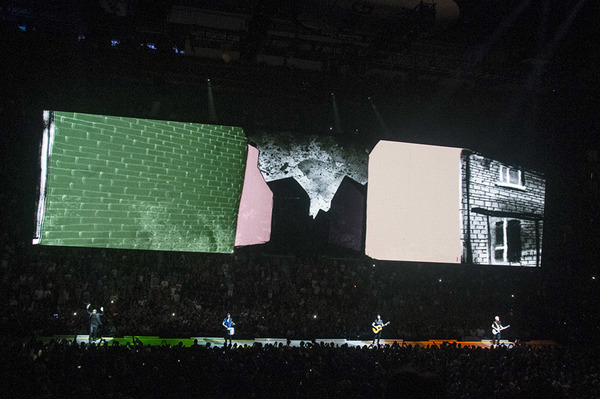 Surprises all night long for the third show in Chicago. Here's a few of ours - add your own in the comments here.
'This is the first time we've played this song in about 20 yrs...'
'I try to sing this song
I try to stand up
But I can't find my feet
I try to speak up
But only in you I'm complete...'
Nearer ten actually, last time for Gloria was December 2005 on the Vertigo Tour, but a song that's thirty four years old shows no signs of ageing. Some way to send a show into the heavens...
The band first played this city in April 1981 and the memories remain vivid. 'Chicago, city of big shoulders... thank you thank you...It's in the heart of America that we found the head of America, that's the truth, and we knew it when we played the Park West… its a little club… is that still here? That would be nice to play some time. It would be nice to play a little club, it would be nice to play the Park West again... note to selves...but our job this evening is to turn the United Center into a little club. How are we doing?' (Not bad by the sound of things tonight...)
The Wanderer, from 1993's Zooropa, is the track that plays at the end of the first 'chapter' in the #U2ie story each night. The unmistakeable image of Johnny Cash on the screens, that unmistakeable voice in the house. There was another connection tonight.
'You say you want diamonds on a ring of gold
You say you want your story to remain untold...'
All I Want Is You reminds Bono of the wanderer himself. 'Feeling the spirit of Johnny and June Cash in the house tonight... could be because their son John is here. He's become a good friend of ours... when I think of their love, beautiful, mysterious, complicated thing, beautiful love… Johnny, June… '
'All the promises we make
From the cradle to the grave
When all I want is you...'
Lucifer's Hands was back in the set tonight, only the second time on the tour to date.
'Gay Pride in the name of love... this is a moment to talk about peace... AND ... love.' The moment was Pride as Bono draped himself in a rainbow flag but there were other moment too, including Beautiful Day ('rainbow colours right in front of you...') and One, with Bono talking of how proud the band are to be in this city on the 'monumental weekend of the 46th Pride Parade.' Good work America for 'following in the footsteps of our small country... we beat you to it.. the Irish, putting the gay in gaelic.' Love is the higher law, love rules, love wins, love is everything...'
Were you at the third night in Chicago? What were your highlights? Post your own review and add your photos here.