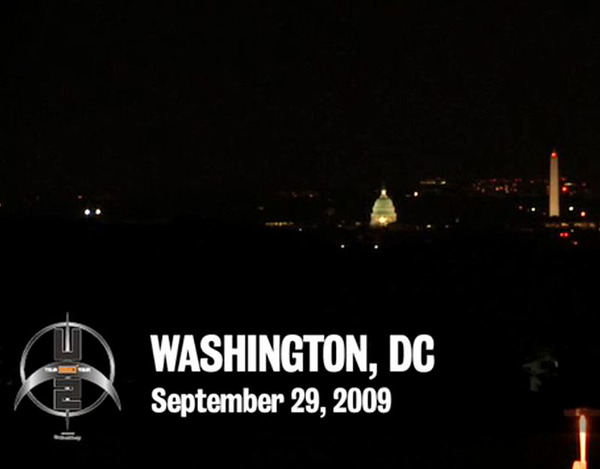 Moving night in Washington with tributes to the late Eunice Shriver and Teddy Kennedy and respect going out to political movers and shakers in DC ... more than a few of whom seem to be here.
During Beautiful Day Bono remembered 'the beautiful Eunice Shriver', describing her as his mentor and it was another special moment when New Years Day was dedicated to Teddy Kennedy. 'For a peaceful Ireland we salute you Teddy...' That nearly brought the house down.
In the stadium tonight we spotted Nanci Pelosi, Speaker of the US House of Representatives and broadcaster George Stephanopoulos, as well as African leaders like Paul Kagame, President of Rwanda and Ngozi Okonjo-Iweala, Managing Director of the World Bank. And in keeping with the DC vibe, Bono restyled the band introducing Larry as the man who wrote U2's constitution, Adam, the Minister of Culture, Edge, 'the leader of my free world' and musing that he himself might be Majority Leader... 'verbal, elegant but tough when I need to be.'
A kid called Andy arrived on stage at the end of Unforgettable Fire and accepted the invitation to stroll around the stage for City of Blinding Lights. 'Larry Mullen wants to go crazy, Larry Mullen is crazy...' sang Bono as the drummer took the djemba for his own nightly walk around the stage, on a track which is without doubt one of the highlights of the show.
Can't fail to mention The Most Stylish Man in Rock, looking particularly dapper tonight, a sparkly red guitar strap standing out on a very fine new jacket. Set list, as you can see below, got another shake-up. Were you there?
Tell us what it was like and post your photos
in our comments area.
Breathe
Magnificent
Get on Your Boots
Mysterious Ways
I Still Haven't Found What I'm Looking For
Elevation
Your Blue Room
Beautiful Day
New Year's Day
Stuck In A Moment
Unforgettable Fire
City of Blinding Lights
Vertigo
I'll Go Crazy - Remix
Sunday Bloody Sunday
MLK
Walk On
One
Where The Streets Have No Name
Ultraviolet
With or Without You
Moment of Surrender