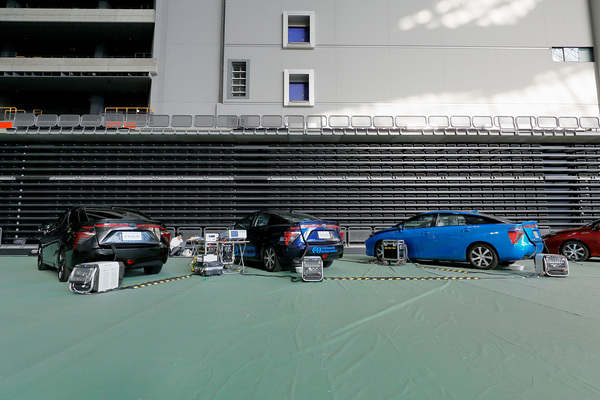 Hydrogen Powered Rock'n'Roll

If you were in the audience at the band's Tokyo show last month, writes Cathleen Falsani, maybe you sensed it was an unusually powerful night. Literally.

During the concert at Tokyo's Saitama Super Arena on Dec. 5, Edge's guitar, Adam's bass, and the entire backline — guitar and bass amplifiers, audio effects and system control — ran on clean hydrogen power.

Four hydrogen-cell-powered Toyota Mirai vehicles, parked backstage, stored the energy that delivered the power.

The hydrogen fuel cells stored clean and renewable energy derived from solar power, with zero carbon emissions. U2 are the first international touring band to use hydrogen power at a show and the second Tokyo gig was the first sold-out show to use this energy source to power the backline.

Hydrogen-powered rock 'n' roll is the latest innovation in the band's ongoing efforts to reduce and mitigate the environmental impact of global touring.

"For a decade, U2 has taken great steps to reduce or eliminate the environmental impact of their touring," says Michael Martin, CEO of r.Cup and CEO/founder of Effect Partners, who has been the band's environmental advisor since their U2360° Tour in 2009.

"They have been at the forefront of music industry sustainability innovation and impact, from setting the standard for waste reduction by banning plastic backstage, offering plant-based food options, integrating the r.Cup reusable cup program to mitigate single-use plastic on their tours, to consulting with venues to help them reduce their overall environmental impact and creating entire new categories of CO2 offsets," Martin said. "In the process, U2 are positively influencing their fans, other artists, and the rest of the industry along the way."

The hydrogen-power collaboration with Toyota has its roots in The Joshua Tree 2017 tour, where Martin fostered a partnership between the band, Live Nation and the carmaker to display hydrogen-cell-powered Mirai sedans at several stops on the North American leg, including the Rose Bowl gigs in California and Met Life Stadium in New Jersey - and offered the use of Mirais to production crews to run errands on show days.

"This experience with hydrogen cell technology made it easy for the band to say yes when Toyota approached us with the opportunity to trial this cutting edge use of the "Mirais" as a source of portable clean energy." Martin said.

'Mirai' 未来 is the Japanese word meaning "future".

"U2 has a strategic vision for being on the leading-edge in innovation and sustainability in the live event space," Martin adds, explaining that all the backstage and tour "greening" initiatives put in place during the 2017 The Joshua Tree tour and 2018's Experience + Innocence Tour continued on the #TheJoshuaTreeTour2019.

These included the elimination of all single-use plastics—cutlery, bags, straws, plateware, cups—hydration stations with reusable bottles for all of the 200+ staff and crew members, ethical and sustainably-sourced catering (including vegan and vegetarian offerings), and compost and recycling in the tour's kitchens as well as in its offices (including batteries, ink cartridges, and scrap metal); and a trash-to-art scheme where used guitar strings and drum heads, are collected and donated to partners who repurpose them into artwork. Additionally, gently used batteries are donated to local nonprofits.

Also continuing apace on The Joshua Tree 2019 tour, were the environmental reporting and carbon emissions-tracking metrics used to calculate the tour's overall environmental impact—including greenhouse gas emissions—and to offset the tour's carbon footprint.

On transportation-related emissions, for instance, Martin and his team catalogue the model number of every truck, bus, limo, and aircraft used throughout the tour in order to track meticulously the total mileage, which determines total CO2 emissions, which are then offset.

Martin describes the approach on tour over the past decade.
"Since 2009, starting with the U2360° Tour, we've selected projects that not only reduce carbon emissions in the atmosphere but are focused on improving the quality of life of people in different communities across Africa, including Kenya and Ghana. This year, we're focused on purchasing offsets in the regions where the tour travelled, starting with tree planting in New Zealand, which is currently the single most effective carbon offset project to improve air quality and sequester carbon from the atmosphere.
"We're also purchasing offsets in a village in India to eliminate methane emissions and improve sanitation systems through the development of waste-to-energy infrastructure."

In addition to the greening work backstage and the big-picture offsets, the band and Live Nation encourage fans to use public transportation to travel to and from concerts and work with venues to eliminate plastic straws, offer vegan and vegetarian food options, and implement reusable beverage cup programs whenever possible. For instance the reusable r.Cup program that was launched during the North American leg of 2017's The Joshua Tree Tour, continued at the Sydney shows on this tour, and a local reusable-cup program was implemented at tour launch dates in Auckland.

Trailblazing green leaders were among the herstory pantheon of "luminous icons" featured in 50-by-40-foot motion graphics on the mega screen during the nightly performance of 'Ultraviolet.' Sixteen-year-old Swedish environmental activist Greta Thunberg was joined by 22-year-old Hilda Flavia Nakabuye of Uganda, 19-year-old indigenous climate activist Artemisa Xakriabá of Brazil, 13-year-old Lucy Gray of New Zealand, and the late Yuen Peng McNeice of Singapore who died in 2012 after a lifetime of environmental activism at age 94.

Whether behind the scenes, backstage, or on the mega screen, the band are working with Live Nation to implement responsible practices and to keep environmental concerns front and center. As Martin says, it's impossible to tour without having some environmental impact, and there is always more to do, but, "as new technologies and solutions are identified, the band are committed to continually pursue the best and most innovative practices."

"The cause of environmentalism is complicated," Edge explains, "But with the help of Michael Martin, the Effect Partners team and our production crew, U2 and Live Nation continue to find innovative ways to reduce and mitigate our touring environmental impacts. These are small and symbolic gestures but through them we hope to educate ourselves and our audience as to how we can all do more to protect our beautiful planet."

See our earlier stories.